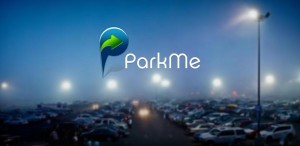 One of the worst things about going to an event, especially one in a big city is that you have to find suitable parking. Finding a single place to park can definitely be stressful, and it can be expensive too! Wouldn't it be great if you could plan your parking in advance, just like you plan your trip? ParkMe is a new app that allows you to "park your car smarter," with help from a comprehensive database of parking info.
What is it and what does it do
Main Functionality
ParkMe is essentially the Google of parking. It offers detailed maps of parking locations along with daily rates, real-time space view (see how many spots are open), and navigation support. There's even a parking timer tool that allows you to track how long you've been parked in a particular location.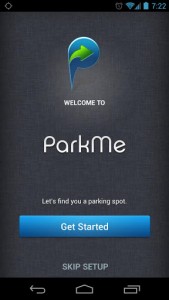 Pros
Familiar interface if you've ever used Google Maps before
No login required, social or email
It will display detailed parking information and highlight nearby locations

Displays parking rates and supported payment methods (cash or credit)
Status info is readily available in select markets (open, full, closed, etc.)
Contact information for the parking facility

Supports "over 500 cities around the world"
• United States: Los Angeles, San Francisco, New York, Seattle, Austin, Houston, Washington D.C., San Diego, Santa Monica, Denver, Chicago, Atlanta, Philadelphia, Dallas, Boston, Phoenix, New Orleans, Portland, Miami…
• Canada: Ottawa, Vancouver, Montreal, Toronto, Edmonton, Calgary, Winnipeg, Quebec City…
• Europe: London, Paris, Madrid, Rome, Munich, Frankfurt, Prague, Vienna…
…plus hundreds of other cities.
Cons
Uses a constant GPS signal, this feature alone isn't a problem but it can drain the battery significantly
The parking facility status is not supported everywhere — some places only display whether a lot is open or closed, you still have to visit the location to find out if there are free spots or not
Some places lack parking info altogether; mainly works with large US, Canada, and Europe cities
Discussion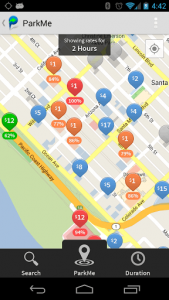 When you first load the app you're taken through a quick tutorial that helps you find a better parking location. The first question asks what kind of vehicle you drive be it car, truck, SUV, or motorcycle. Then you're asked what you prefer in regards to location, closer parking that's more expensive or cheaper parking that's further away (you can also choose in-between the two extremes for a happy medium). The final question is how long you generally park in a location, but this setting can always be changed later.
It's obvious ParkMe uses the Google Maps API, so if you've ever used Maps before you should have a good idea of how this app works. After configuring the initial settings, you're taken directly to a map interface. The application will automatically detect your current location and show you parking locations nearby. Of course, you can also browse the map freely to looking for parking in a remote location.
Parking facilities show up on the map as multi-colored pointers when the view is zoomed all the way out. When you zoom in close the parking area is actually illuminated with a light glow. This allows you to see approximately how big a parking location really is when compared to the surrounding area. The varying colors also allow you to gauge whether the parking facility is open, closed, empty or full.
Blue pin is open
Grey pin is closed
Green pin is empty
Orange pin is half-full
Red pin is full
Unfortunately, the realtime space view is only available in select markets. In my particular market there was no support so I could not test out of the feature accurately. Supposedly, it provides realtime information about spots available at a parking facility. If it works it will save you time spent looking around for an open spot when, in fact, there are none.
At any time you can change the parking duration through the menu at the bottom of the window. Setting the desired duration will filter parking facility results to those that allow specific increments. For example, if I want to park somewhere for two hours and I set this duration in the app, all parking facilities that only accommodate for hour long parking are filtered out of the results.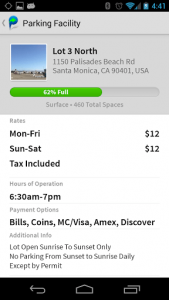 When zoomed in further, the parking rates are displayed right on the facility icons. Tapping on the icon once will also bring up a small sub-menu that displays what payment types are accepted at that particular location. This is extremely helpful if you don't have cash and want to pay with a credit or debit card. Double tapping on an icon will bring up a bigger menu that displays contact information for the parking facility, hours of operation and more.
You can pop open the side menu for the app at any time by swiping from the right side of the screen to the left. Through the side-menu you can access the parking timer, map legend and application settings.
The parking timer is just a convenient little tool that allows you to set a personal alert, in order to keep track of how long you've been parked in a particular location. If you need to move the car after an hour or two, you can set the timer within the app and it will alert you when it's time to get moving. You can also plan ahead with a calendar tab if you're in a city where the vehicle can only be parked for so many days.
The map legend basically just tells you about the different icons displayed on the map and how they work. The application settings include everything you entered when you first started the app, you can change all related info here if you need to.
All in all, it's a useful app if you don't know an area well and you're looking for parking. There's a distinct ParkMe button that will recommend nearby parking facilities although I'm not entirely sure what algorithm is used to recommend a location. I'm sure it has everything to do with the preferences you set when first setting up the app.
For reference, ParkMe uses about 48MB of RAM while running, and it relies on a constant GPS signal. Ultimately that means it will drain your battery faster while running, keep that in mind when using it and plan accordingly.
Conclusion and download link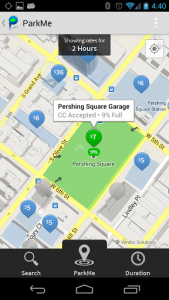 ParkMe is a convenient app that helps you find parking for your vehicle. Not only does it display parking lots, but it also displays if spots are open or not plus parking rates and accepted payment forms… which makes this app simply awesome.
That said, this app is only if you live in or travel to the cities that are supported. The developer claims app supports "over 500 cities around the world", but most of these cities are in US, Canada, and Europe, and frankly speaking, 500 cities worldwide is a pathetic number. Furthermore, because it relies on a constant GPS signal to populate the map, it can drain your battery significantly if used for extended periods of time. If you can put up with these two issues, then grab this app. If you can't, then skip this one.
Price: Free
Version reviewed: 1.1.1
Requires: Android 2.2 and up
Download size: 3.6MB
Related Posts