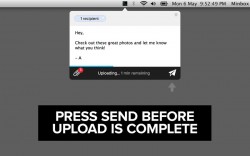 I'm a sucker for any app that has a sleek, minimalist design. Design isn't everything, but an app that has been thoughtfully designed almost always works better than an app that features a clunky aesthetic. So when I heard about Minbox, a file-sharing app that featured a very minimal design, I just had to give it a spin. On top of its great aesthetic, Minbox also boasts that it is "the fastest file-sharing app in the world."
What is it and what does it do
Main Functionality
Minbox is a Mac app that sets up shop in your menu bar. This app allows users to share files quickly and easily, and users can even hit "send" before their upload is complete.
Pros
Simple, attractive interface
Your recipient doesn't need to have Minbox installed to receive files from you
You can hit "send" before your files are done uploading: you can just get back to work, and the files will send automatically once they have finished uploading
You can also set up your files/messages to send at a later time/date
Unlimited file sharing of any file size
RAW file conversion into an elegant online gallery
Lightning fast customer support from a friendly, helpful team
Cons
If you don't have an access code, you'll need to request one from within the app…and that wait can be excruciating
Recipients are sent your files through a unique URL, but the files expire after 30 days ( you can upgrade to Pro for more file options)
Discussion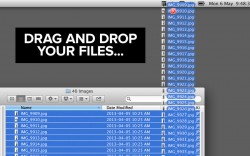 When you launch Minbox for the first time, you'll need to request an access code before you can log in. One thing that is annoying is the message you'll get after you've requested your code: "Due to high demand, we unfortunately can't let you in immediately."
You can wait about 4 days to be granted access, or you can move yourself up the list by getting your friends to download the app. However, it is worth noting that the developers are basically asking you to get your friends on board with an app that you haven't even been able to try out for yourself yet. This has caused a lot of outrage on the Mac App Store, as you can see by checking out the user reviews.
Once you get in, however, Minbox really does live up to all the hype…and then some. The menu bar is the perfect place for this app to live: it's there when you need it, and pretty much invisible when it's not in active use. You can drag and drop files, or right-click on any file to send it through Minbox. You can also just hit the attachment icon to launch a window and select your file.
Minbox really is a zippy little app. Not only does it send files quickly, but the app itself is also quite nimble. I love the ability to hit "send" and get back to work while a large file is uploading, as well as the ability to send files at a predetermined date in the future. I also love that you get "sent" and "viewed" confirmations in your email (though you might want to set up an inbox filter to keep these notifications from creating too much email clutter.)
I like this app much more than Dropbox. Don't get me wrong: Dropbox is a solid tool. But for my needs, Minbox is a far better fit. You don't have to accept shared folder invites as with Dropbox, and the upload process in Minbox just feels faster and more nimble than in Dropbox. Minbox is a "lightweight" app, but it's far from flimsy.
Conclusion and download link
If you need a simple, elegant file sharing app that runs in the background, Minbox is a superb choice. It looks great, works great, and takes the headache out of sharing big files (or just a pile of small ones.) If you like apps that blend form and function, this is a strong choice. The icing on top of this solid tool is the customer support team: Minbox features a team that is one of the fastest and nicest I've dealt with this year. Good things come to those who wait: if you need a fast file-sharing solution, I highly recommend getting on the waiting list for this app now.
Price: Free
Version reviewed: 1.8
Supported OS: OS X 10.6 or later

Download size: 1.3 MB
Related Posts