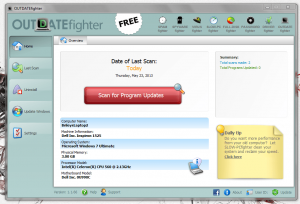 One of the most convenient features of mobile devices like an Android smartphone, iPhone or iPad is that they automatically synchronize with the marketplace and download updates as soon as they're available. Unfortunately, Windows only does that with updates from Microsoft. Wouldn't it be nice if you could automatically download updates for all of your installed applications and programs, or at the very least be notified when one was available instead of hunting them down on the web. OUTDATEfighter is a free Windows application that will notify you when an update is available for an application. It will also batch download updates so that you don't have to download each package individually.
What is it and what does it do
Main Functionality
OUTDATEfighter aims to take the hassle out of updating installed applications by automating the process and making it as easy as possible. It will download and install the latest versions of software, clean up any temporary files and more. The application also includes a couple of useful tools like a Windows updater and a proprietary uninstaller.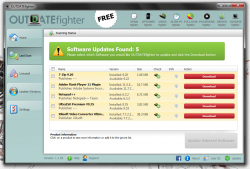 Pros
Scans installed applications and checks for new updates

You can install updates in groups (batch install)
The application automatically cleans up temporary files after installing updates
You can choose to ignore an application if you never want to update it

Also has a Windows updater and program uninstaller
The scan process is pretty quick
The UI is clean and simple
It's light on resources (2 processes for a total of about 16,000KB RAM usage)
The uninstall tool cannot batch remove programs

Both the uninstall and Windows update tools are unnecessary (they operate exactly the same as the regular Windows uninstall/update featured)
It would be nice to see a proprietary cleanup tool of some kind
There are advertising icons for the developer's alternate software
The additional 'FightersTray.exe' simply displays the developer's other software (it's spam), but it can be force closed with Windows Task Manager
Discussion
The OUTDATEfighter UI is pretty simple, despite how it looks at first glance. When you open it for the first time it will redirect the default browser to a welcome page for the application. It's not a getting started guide or anything, really it's to show off some of the other programs offered by the developer.

In the top right corner of the OUTDATEfighter window there are also advertisements for additional software. They're not obtrusive and they don't get in the way, but it is definitely possible to click on them by accident.
The left side of the window houses the navigation menu, will the top most option taking you to the home screen, then recent scan results, the uninstall tool, the Windows update tool and the application settings respectively.
On the main tab, the application displays your system specs, a start scan button, a results summary and a handy daily tip window. Clicking on the 'scan for program updates' button will launch a scan for applications on your computer and any available updates they may have. The scan itself is pretty speedy since it only took 2-3 seconds on my computer.
After the scan is completed the application will take you directly to the results window, which is to be expected. At the top of the window a pretty sizeable label outputs the total number of applications that need updating. You can select each app individually, or you can select all of them and batch update. If there's a program you don't ever want to be updated you can select it in the results list and press an 'ignore' button at the bottom of the window.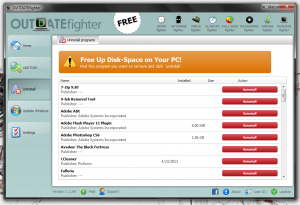 Downloading updates for a whole list of applications can get pretty messy, especially since the process aggregates a lot of temporary install files and extra content. OUTDATEfighter takes care of this issue by storing all downloads in a 'temp' folder and then cleaning them up after the installation is complete.
The application also features two handy tools, an uninstaller and a Windows update tool. The uninstaller is pretty basic, and populates a list of currently installed applications which you can remove from your computer one by one. Unfortunately, there's no way to batch uninstall programs but that's not exactly a necessity. When you uninstall an application the entry will remain in the list until you restart OUTDATEfighter, but the 'uninstall' button will disappear indicating it's been removed. The Windows update tool is also pretty basic. There's a tab for important updates and a separate tab for optional updates. You can also view the Windows update history, if you want to see what changes have been made in the past. There's nothing offered that the regular Windows Update tool doesn't already.
When compared with an application like Geek Uninstaller, OUTDATEfighter does not include any additional cleaners.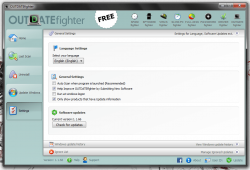 In the application settings menu there are three collapsible tabs, general settings, Windows update history, and ignore list. The two latter tabs are pretty straightforward and require no further explanation. In the general settings you can change several application specific options like the display language, enable an auto-scan (when the app is started), turning on software submission reports, running the app when Windows starts and hiding products that don't include update information in the scan results. You can also check for updates to OUTDATEfighter, as well.
For reference, OUTDATEfighter starts two system processes, one for the tray icon and the other for the application itself. 'FightersTray.exe' uses nearly 4,000KB of RAM and 'OUTDATEfighter.exe' uses nearly 12,000KB of RAM.
The 'FightersTray.exe' simply runs in the background and displays the developer's other software (it's spam). Right clicking on the icon in the tray will allow you to choose from a list of alternate software or hide the icon. Keep in mind if you hide it then it is not closed, you must force close it with the Windows Task Manager.
Conclusion and download link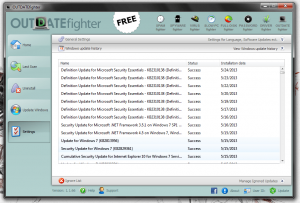 All in all, OUTDATEfighter is an extremely functional and convenient application that streamlines the update process for installed software. As Linux users will attest to, it's much easier to update installed applications through a single interface than it is to hunt down install packages for each program individually, and OUTDATEfighter provides this functionality. Best of all, it supports batch updates and it cleans up after itself by deleting all install-related temporary files. If you're tired of updating programs individually and hunting down new install packages, OUTDATEfighter can alleviate such woes. Check it out.
Price: Free
Version reviewed: 1.1.66
Supported OS: Windows (XP, Vista, Seven, Eight)
Download size: 1.92MB
VirusTotal malware scan results: 0/46
Is it portable? No
Related Posts