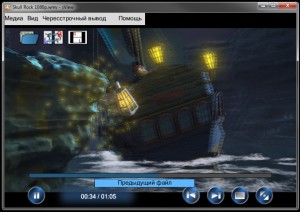 If you are like me, you definitely dislike optical disc playback because sometimes playback fails; reasons behind failure include, but are not limited to, faulty disc, region lock, device limitation. For example, a DVD bought in US may not play in India if it is not region-free; or blu-ray disc (BD) won't play anywhere other than standalone BD players, typical BD media players in computers or consoles like Sony PlayStation 3. No wonder why people like DRM free digital file in the hard/flash drive for playback without any hitch. Moreover, as long as the device hardware/OS/software supports, the digital files in your drive can virtually be played in any device. For 2D files, we have a plethora of media players in any standard OS. However, when it comes to 3D stereoscopic files, we rarely see a media player available for free. Here sView comes to your rescue.
What is it and what does it do
sView is a free, open source, and cross-platform stereoscopic 3D media player. It works on Windows, Linux, and Mac OS X. For the purposes of this review, we specifically looked at the Windows version.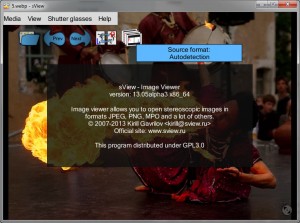 Pros
Minimalistic yet stunning interface
Available for Windows, Linux, OSX
Typical stereoscopic 3D playback (see discussion below for more details)
Video/image support
No external codecs required
Drag-n-drop possible
No stuttering up to 1080P
Preferred subtitle and audio track support
Features like taking 3D screenshot included
Support to active shutter glasses (IR) and passive anaglyph (red-cyan) glasses
Open-source
Cons
No automatic proper playback (see discussion below for more details)
Computer fans may go berserk during playback
Error message at the launch (see discussion below for more details)
No Windows XP support; Win8 support is unknown
No right-click menu
No keyboard short-cuts
NVIDIA warning message (which is removeable)
No resume playback function
Not all subtitle formats supported
Discussion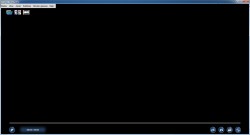 Before I elaborate, I must tell you that you need 3D hardware like 3D monitor/glasses to make playback work with this software. I have tested sView Windows version # 13.05 in Windows 7 Professional 64 bit with active display and Nvidia active shutter glasses. Half-side-by-side (half-SBS or H-SBS) or full-side-by-side (full-SBS or F-SBS) or half-over-the-under (half-OU or H-OU) 1080P AVC-x264/DTS-5.1/MKV files worked with zero issues. Embedded subtitle files like UTF-8 worked while PGS (zlib) didn't work. External subtitle files like SRT worked but SUB/IDX didn't work.
The first thing you will observe when you open this player is that it comes up with an error message, "WinAPI, Quad Buffered stereo not supported". It will not endanger playback but I couldn't appreciate it. The uncluttered modern-day interface is something you may like.
Unless you play with this software, it is not very easy to figure out how to properly play stereoscopic 3D since automatic functions do not work well, and no suitable guides are available from the developer. The good news is that I have created a guide that you can use for correct playback as follows:
Choosing your glasses
If you have active shutter glasses, you need to change the glasses by going to Shutter glasses > Change device > Shutter glasses. Other options are also available.
Choosing your graphics card
If you have Nvidia graphics card, you need to go to Shutter glasses > Quad Buffer type, and change OpenGL Hardware to Direct3D NVIDIA (Fullscreen).
Opening a stereoscopic 3D file
Media > Open Movie… > From One file. Drag-n-drop works, too. If you have two files for the same video/movie, choose Left+Right files.
Selecting the source stereo format

Media > Source stereo format > Over/Under (L/R) if the video is H-OU
Media > Source stereo format > Parallel Pair if the video is H-SBS or F-SBS
You can also select Over/Under (R/L) if the video is H-OU. You have many other choices depending on what you have. Do NOT choose Autodetection. This may not work. At this point, DON'T be alarmed if the image looks crazy like having issues with aspect ratio (AR). First thing first, make sure that View > Stereo Output > Stereo is selected. You are gonna watch it in 3D, right? Then, View > Display Ratio > … Do NOT choose Auto. This may not work.
Not sure about the display ratio (aka AR) of the file? Use MediaInfo (download here, install (or run as a portable app), open, drag-n-drop the file onto the interface). MediaInfo is available in GUI/CLI, Windows/Linux/OSX, 32/64 bit and/or installer/portable version. Get what you need! Always download the latest stable version.
3D works only in Fullscreen mode (press the button at the bottom right corner to switch to). Pressing the ESC button on your keyboard quits the player.
When in full screen mode, if it shows one blue line (starting from the bottom left corner of the screen and extending upto ~80% of the bottom; it showed in the previous version, and not in this version for me), it can be corrected by going to Shutter Glasses > Show Extra Options to open Glasses control codes > No codes.
During playback, the software takes ~ 450 MB of RAM whereas it takes ~ 50 MB in standby mode (your mileage may vary). Your computer may warm up high, and its fan may go crazy when you play 3D. I find that it is somewhat normal for 3D playback; therefore, try to avoid running other programs at the same time. Nvidia warning message (if you have Nvidia graphics card) does not go away until you press Ctrl+Alt+Insert. Of course, this is developer's out of control. If you wanna take 3D screenshot, go to Media > Save Snapshot… in JPEG stereo (*.jps) or PNG stereo (*.pns). While I understand why Windows XP is not supported by the developer (it installs in C:\Program Files\sView), but Windows 8 support is something he should come up with in no time. Last but not the least, I would like to see resume playback function in a media player; unfortunately, like many other common media players, it does not start playback from the point where it was left at when you closed the window. For those who are wondering, the following is the configuration of my laptop where this software test has taken place: ASUS G73JW | Intel Core i7-740QM, 1.73GHz | 8GB DDR3 | Nvidia GeForce GTX 460M, 1.5GB | OCZ 120GB SSD + Seagate 500GB Hybrid 7200rpm | 17.3″ FHD/3D | Blu-ray Write | Win7Pro64
Conclusion and download link
Despite its limitations, I wholeheartedly give sView two thumbs up. As far as I know, this is the only free stereoscopic 3D media player that requires no external codecs and works on Windows, Linux, and Mac OS X. Sure there are negative aspects to the program, but it just works with its simple but powerful interface. Recommended.
Price: Free
Version reviewed: 13.05

Supported OS: Windows (Vista, Win7), Linux, Mac OS X
Download size: 15.5 MB
VirusTotal malware scan results: 0/46
Is it portable? No
Related Posts