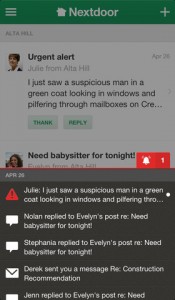 Facebook may be the most ubiquitous social network out there, but it doesn't always suit the needs of all people. There are just some things you don't want to discuss on Facebook, particularly if you are frustrated or distrustful of their ever-changing privacy policies and default settings. For that reason, some people are branching out to alternative social networks. One network on the rise is Nextdoor.
What is it and what does it do
Main Functionality
Nextdoor is an app that lets you set up a private social network to communicate with your neighbors. You can use this network to discuss everything from babysitting needs and lost pets to coordinating block parties or disaster relief efforts after a bad storm.
Pros
Supports 12,000 communities
Provides "urgent alerts" in the case of crime, disasters, or storms
Neighbors have to verify their address, preventing fake neighbors from spying on you
Cons
Address verification can take a while (3-5 days if you opt for postcard verification, but instantly if you use credit card info)
Some addresses aren't supported yet: you'll need to send an email to the developers under the "unable to locate my address" subject in the in-app contact system
The iPhone version of the app does not yet allow creation of new neighborhood boundaries, among other limitations
Discussion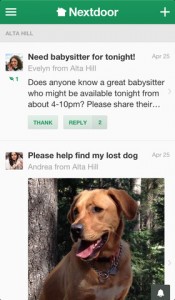 There's been a trend in the past couple of years where social networking apps are attempting to actually foster a sense of connectedness in the real world, and not just churn out a quantitative list of "friends." I'm a big fan of this movement, and any app that lets you build a community in the real world is worth checking out.
If you sign up and get a message that your address is unrecognized, you'll have to send in a message to the developers. They will alert you when your neighborhood is finally supported. A time table for this within the app would be helpful.
On their Help page, the developers offer the following explanation for this unrecognized address issue: "While we're continually receiving updates to our mapping database, unfortunately sometimes we don't have the data in some areas. As soon as we do, we'll be sure to contact you so you and your neighbors can get started with your own Nextdoor website." Sadly, it's a cold comfort to anyone who was really excited to try the app and unable to do so.
Overall, for those who can get into the app, Nextdoor offers a great way to build community. You can share information, as well as advice and ideas with your neighbors. In the future, the developers plan to have a way for community leaders and public safety officers who live outside of the neighborhood's boundaries to join with ease. However, this has yet to be implemented.
Conclusion and download link
Nextdoor is a great tool to communicate simply with your neighbors about social gatherings, homeowner's association meetings, neighborhood watch threats, disaster relief, or any number of subjects. The next time a storm knocks out your power, you need someone to water your plants while you're on vacation, you'll be glad to have a fast, private way to chat with your trusted neighbors. However, given some of its limitations, this app is definitely not at its full potential. However, it remains one to watch.
Price: Free
Version reviewed: 1.0.1
Supported OS: Requires iOS 6.0 or later

Download size: 9.3 MB
Related Posts