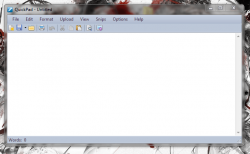 There are a ton of Notepad alternatives that offer advanced features when compared to the vanilla Notepad app. Some of them improve the experience, while others don't really add much to it. Notepad+ is a great example of an alternative that works, but it's tailored more for coders and web designers. QuickPad is yet another Notepad alternative, which includes a couple unique features like an integrated Google Search function, customizable UI, and the option to export documents in an encrypted QPF format.
What is it and what does it do
Main Functionality
QuickPad is a Notepad alternative that packs a couple extra features, some of which you would be hard pressed to find elsewhere. Notepad has long been a useful tool, but it could certainly use a little spice when it comes to features. QuickPad includes an integrated Google Search function, options to run VB script and export documents in QPF format, and a customizable UI.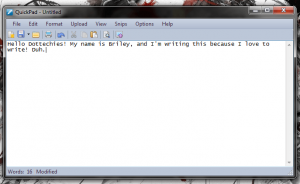 Pros
Clean and minimal UI
Notepad clone that includes all the same basic features plus advanced features
Advanced features include:

Ability to search Google from within the app (i.e. run a search query for highlighted content)
Upload content right to Pastebin
Insert special characters
Run VB script right in the app
Export documents in proprietary QPF format (encrypted and secure)
Offers a realtime word count in the bottom left corner of the window

Lightweight
Cons
Requires Microsoft .NET Framework 3.5 or greater
It's UK based which means the Google Search takes you to the UK version of the site
Code and programming languages do not automatically change colors or style (i.e. doesn't do what Notepad+ does)
Discussion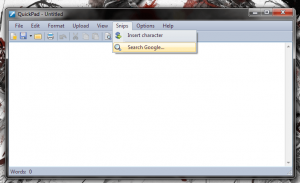 Because QuickPad is simply a Notepad alternative, I'm not going to cover the features that are identical, instead I will review what makes it different. When you open QuickPad everything appears the same as vanilla Notepad, especially since it's so minimal in terms of design. In the normal form area you can type text or code if you're into that kind of thing. Quickpad also has a menu bar which includes several shortcuts to frequently used functions like saving and opening files, creating files, printing, and more.
Like Notepad, QuickPad can open a ton of different file types. You can also change the font color, size and type from a 'Format' dropdown menu. Pretty straightforward stuff, so let's move on to the advanced features.
You can upload any text or code straight to pastebin from directly within QuickPad. This is handy if you want to share a particular piece of content. It's extremely helpful for developers that are running into trouble while coding.
You can highlight text and then immediately look it up using Google through a unique option under the 'Snips' menu. You can also insert a character from the same menu. When you select the option to insert a character it brings up the default character selection menu for Windows.
One other useful feature is that you can open documents in a special Read only mode. This prevents any changes from being made to the document even by accident. It's great for those times you just want to view or copy content without changing it. You can also view any document in fullscreen mode by pressing F11. It opens the writing environment up, and removes all distractions.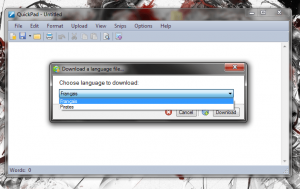 You can download additional language packs for use with the application. This is pretty amusing, but there's a silly language pack for pirates which basically turns all of the menu commands into pirate terms. For example, the file menu includes options like 'New vessel,' 'save this chest,' and 'print this ship.'
All files can be saved as text documents traditionally, or they can be exported in the QPF format (proprietary QuickPad file). Documents exported in this format are encrypted and therefore are also a lot safer.
For reference, QuickPad uses about 9,000KB of RAM while running.
Conclusion and download link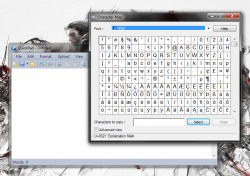 QuickPad is a decent alternative to Notepad. Its main attraction are the few unique features such as the ability search via Google instantly, additional language packs, special character support, quick uploading to Pastebin, a read only mode, and more. If you're an avid VB (Visual Basic) user then you'll be pleased to know it runs VB script from directly within the app, as well. Unlike Notepad+, QuickPad does not highlight and stylize text automatically when you're writing code so QuickPad is not for coders. Everyone else, however, might find QuickPad useful. Indeed, if you're looking for a Notepad clone with a little extra oomf, check out QuickPad.
Price: Free
Version reviewed: 3.0.0.0 (Build 7483)
Supported OS: Windows (XP, Vista, Seven, Eight)
Download size: 6.80MB
VirusTotal malware scan results: 0/41
Is it portable? No
Related Posts