I'm a sucker for a good puzzle. There's just something about the iPhone format that is the perfect display for puzzle games, and puzzles are the best way to kill time between meetings or on the way to catch a train. So whenever I hear about a new puzzle game, I'm unable to stop myself from checking it out. One game that recently caught my eye was Mulled FREE.
What is it and what does it do
Main Functionality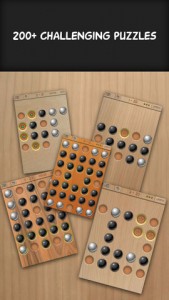 Mulled FREE is a puzzle game developed by Hako Games, which features over 200 puzzles and two game modes.
Pros
Simple to learn, yet hard to master
Elegantly designed game that's iPhone 5 compatible and quite attractive
Tons of badges to unlock
Cons
Some challenge mode and classic mode levels are too simple, or too similar to one another to feel like a real challenge
Design feels a bit limited at time: you have to progress through the game in a linear fashion, and can't jump from table to table
Discussion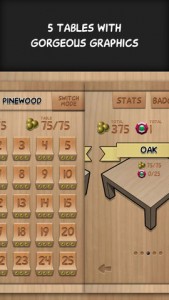 Sometimes the simplest puzzles are the most fiendish. That's certainly the case with Mulled, a game that's all about moving balls into holes. The goal in each level is simple: move the white ball into the golden-rimmed holes. However, it's not quite as simple as it sounds.
You see, there are these pesky black balls. You can't jump the white balls over the black balls, but you can nudge them over to a vacant space when you push the white ball (or balls) into the path of the black balls. Eventually, you'll move the black balls aside and be able to get the white ball into the goal hole.
Like most iOS puzzle games, Mulled sounds frightfully dull when you describe it out loud to another person. Once you're actually playing it, however, it is quite enjoyable. I'm not sure I'd describe the various wood tables as "amazing," as the app store does. It's all just virtual wood, really, though nicely rendered.
The Version 1.3.x iteration of this game features a new way to play: Challenge Mode, with 100 new levels. Featuring tons of badges and gems to collect, challenge mode differs from classic mode very little. The level designs are pretty darn similar (at least in the early bits), you're just collecting a different kind of reward currency (golden balls versus gems.) Golden balls are used to unlock bonus levels.
Conclusion and download link
Mulled is a simple puzzle, but it still manages to be really addictive. Not only is the quest to get the balls in the hole interesting, but there's a lot of replay value in trying to get the ball into the hole in as few moves as possible. With tons of badges to unlock (plus some secret badges that you have to uncover for yourself), it's hard to put down this puzzle title.
Price: Free
Version reviewed: 1.3.2
Supported OS: Requires iOS 4.0 or later

Download size: 35.9 MB
Mulled FREE on Apple App Store
Related Posts