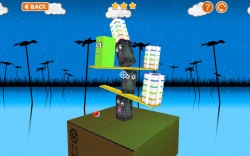 Most of us don't think about it, but physics is everything. Well, at least when it comes to games. Video games that lack realistic physics (or at least, consistently fantastic physics) are often games that frustrate players. Even though I'm not much of a science nerd (my physics grades were always abysmal), I'm a sucker for physics-based puzzlers. And if those puzzlers also include a shooting element, so much the better. That's why I had to check out A Monster Ate My Homework, which is currently free for a limited time.
What is it and what does it do
Main Functionality
A Monster Ate My Homework is a Mac game that's part physics puzzle and part shooter.
Pros
Great customization options at startup for setting graphics and resolution quality
3D physics puzzle shooter with 80 levels
Fully rotate puzzles for an immersive experience
Cons
While tricky at times, it could be made trickier: it just feels simple
The game flies by so fast that 80 levels just ain't enough
Discussion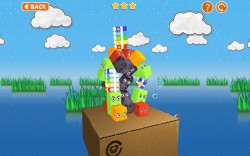 Gameplay is pretty simple. In each level, there are an array of different blocks balanced precariously upon a single platform. Your goal is to shoot at the monster blocks, and knock them off the edge of the platform. However, you need to avoid knocking over stacks of homework when you shoot the monster blocks.
At startup, you can select your screen resolution and graphics quality to best suit your needs. Being able to do that before the game is quite considerate: it's nice to be able to set that stuff up beforehand, rather than needing to reboot the game after changing the settings.
The controls are simple: spin the camera around the platform with the arrow keys to get a panoramic view of the level, then use your cursor to aim and fire upon the blocks. I do wish that the number of balls you had available to shoot was more limited on some levels, the better to make you strategize and economize. While A Monster Ate My Homework occasionally feels too simple, there's a lot of replay value here. Still, I can't help but crave more levels. 80 levels seems like a lot…until you beat them!
Overall, I think the physics are pretty solid here. The blocks definitely react differently based on where you hit them (top or bottom.) That being said, I do wish the physics of the balls that you shoot had a bit more play to them. For example, you can't really bounce them by aiming onto the platform: the platform absorbs the energy and the ball tends to roll, rather than bounce.
Conclusion and download link
A Monster Ate My Homework is also available for iPad and iPhone, but I actually prefer playing it on a Mac. Whether you're using a trackpad or a mouse, there's something really satisfying about lining up your next shot and firing and these evil monster blocks. If you love strategizing puzzle games and shooting games, this playful title blends the best of both worlds.
Price: Unknown
Note: At the time of this posting, this app is available free for a limited time only
Version reviewed: 1.0
Supported OS: OS X 10.6.6 or later

Download size: 20.6 MB
A Monster Ate My Homework on Mac App Store
Related Posts