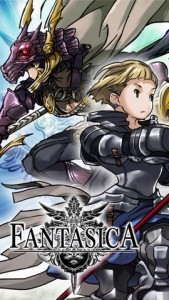 After playing Magic as a kid, I'm kind of a sucker for card games of all kinds. I'm a huge fan of the way an iPhone lets you play a collectible card game: there's nothing worse than lugging around a box of cards, or having someone spill a drink on your cards during a game! Updated just a few days ago, the card game FANTASICA caught my eye while I was browsing the App Store's genius recommendations.
What is it and what does it do
Main Functionality
FANTASICA is a collectible card game, with game elements from other genres thrown in as well.
Pros
Great graphics
Create a new Mobage account to sign in, or log in with Facebook
Play with or without sound
Great soundtrack reminiscent of classic 16-bt RPG games
Helpful tutorial that avoids being boring and long-winded
Designed, in part, by Final Fantasy Art Director Hideo Minaba
Over 200 adventures and quests, with limited time quests added occasionally
Cons
Annoying pop-ups
Somewhat long wait before you can actually play, as you must wait for updates to download
UI is a bit messy, convoluted, and confusing
Discussion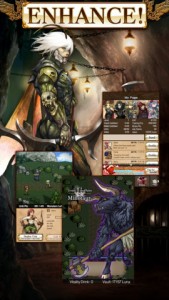 Card battle games are a huge subset of the App Store's game collection, but the genre can be a bit ht or miss. For example, I had previously played Guardian Cross…but as much as I love Square Enix and JRPGS, Guardian Cross was a bit tedious and too simple to capture my attention for more than a few hours. I deleted the game the same day I downloaded it.
So, going into FANTASICA for the first time, my expectations weren't very high. However, the story helped to draw me in. Unlike many other games in this genre, the background information is presented in a clear and concise manner, and in well-formed sentences.
When a crimson moon rises over the capital city, beasts walk the Earth and kill everything in their path, bringing an end to peace. As the player, you must help to stem the tide of battle with fighters, archers, and mages.
There's an almost tower defense-like aspect to this card game. You need to carefully place and deploy your forces, and once placed, they will fight on their own automatically. However, the tower defense aspects do not detract from the cards themselves, which are beautifully illustrated by Final Fantasy Art Director Hideo Minaba!
One thing that I like is that you have some degree of freedom in terms of what quests you complete when. Being able to have a bit of flexibility in quest order completion makes the game feel more like a game, and less like a chore or task. Overall, there's an enjoyable meshing of genres here.
Conclusion and download link
Part CCG, part RPG, and part tower defense game, FANTASICA is quite different from most of the other battle card games clogging up the App Store. While getting your bearings can take a bit of time because of the complex UI, this beautifully rendered game is worth checking out if you like card games, RPGs, or tower defense games.
Price: Free
Version reviewed: 2.3
Supported OS: Requires iOS 4.3 or later

Download size: 32.8 MB
Related Posts