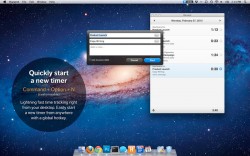 There are two main reasons to track how you spend your time: because you want to boost your own personal productivity, or because you have to do invoices/payroll. Whether you're a solo user, or own a small business, one tool that can be really helpful in managing and monitoring your time is Harvest.
What is it and what does it do
Main Functionality
Harvest is a robust, yet lightweight, tool for time management. You can use this app to construct timesheets, see how you or your employees are breaking up their day, or just time your workflow for productivity purposes.
Pros
Elegant design: app runs from the menu bar and keeps a low profile
Comprehensive support and FAQ makes using this app simple
Free for a single user, and can send unlimited invoices
Left your computer idle? You can easily delete idle time after the fact to clean up your time sheets and make them more accurately reflect your working day
Simple keyboard shortcuts make it easy to see your timesheet in progress, or start a fresh timer for a new job
Export CSV files to use in Excel, OpenOffice, or Google Spreadsheets
Cons
You'll need to shell out some cash on a monthly basis if you want to support more than one user, or have unlimited clients and projects
Requires account to track your time
Verizon FiOS users have reported connectivity issues with Harvest: resetting the router or changing DNS settings usually helps
Discussion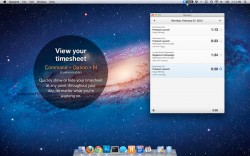 While Harvest is free to download, it's only free up to a point. Under the Free umbrella, you are allowed one user, 2 projects, and 4 clients. You can't upload a company logo, nor can you integrate with QuickBooks. You can, however, send as many invoices as you please.
If you need more power, Harvest's monthly plans cost $12, $49, or $99, depending on the size of your team. If you need to cover more than 10 users, there's a $10 a month charge for additional employee on top of your base monthly rate.
One of the better features of this app is the idle time tracker. Harvest for Mac automatically detects when your computer has been idle (after 10 minutes of inactivity.) You can go back in later and remove the idle time (for breaks, lunches, meetings, etc), to make sure your time sheet is an accurate reflection of your day.
It's rare to see an app that has this blend of lightweight features and robust, powerful tools. You can simply run this app in the background from your menu bar as a time tracker, or turn it into the hub of your payroll and invoicing needs. It's elegant, but also brawny when it needs to be.
Conclusion and download link
Harvest is lightweight, simple to use, and able to be rapidly scaled up as your company grows. While it's good for a company, it's also good for freelancers or independent contractors, or just someone who wants to better monitor how they're breaking up their usable time during the course of an average workday.
Price: Free
Version reviewed: 1.0.6
Supported OS: OS X 10.6.6 or later

Download size: 0.5 MB
Related Posts