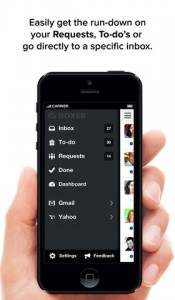 You'd think after owning my current iPhone for about 18 months, I would have finally settled on an email app that I like. And while I have flirted with other mail apps, I still return to the native Apple Mail app on my iPhone. I haven't been that motivated to find a better email app solution: I work from home, so I'm within arm's reach of my laptop pretty much all the time. That being said, Apple's native Mail offering leaves a lot to be desired. So when I heard glowing reviews about Boxer, I decided to check it out.
What is it and what does it do
Main Functionality
Boxer offers users the ability to "triage" their inboxes. This app aims to make it simple to review priority emails, delete the junk, and prioritize emails that need responding to, all in a simple, clean interface.
Pros
Supports Exchange, Gmail, Yahoo, Outlook.com, Hotmail, iCloud, and AOL email accounts
Attach names and descriptions to email accounts for ease of use
Also offers robust to-do list functionality on top of email access and email management
Fast deletion as well as fast replies (thanks to custom quick replies feature)
Also allows fast responding to email with a "Like" feature that indicates you got the message
Incoming emails feature profile pictures, personalizing your mail
Dropbox integration
Personal data is not stored on Boxer servers
Cons
Push notifications appear to be for Gmail only at this time
If your email is not from one of the providers listed in the Pros above, you'll have to wait for an updated version of the app that will support your provider
Discussion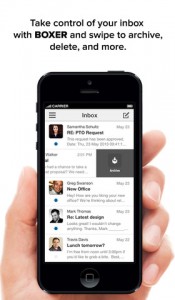 Arguably, the thing that makes Boxer so special is its use of "swipe" gestures to quickly move through your inbox. When you swipe left, you can archive, delete, or mark an email as spam. Archiving, for the purposes of this app, simply means the message is moved from your inbox to "all mail," somewhat similar to marking emails as read, but without having to read them. If you swipe right, you pull up a menu that lets you like a message, send a quick response, build a to-do list off the item, or request help from a colleague.
If you need to undo one of these commands, don't fret: the command isn't activated until you tap another "cell" where another email is being displayed. This actually takes a bit of getting used to, particularly if you're deleting many messages at once. The UI is very attractive, but deleting does feel a little slow at times…but not that much slower than in the native Mail app.
One huge perk is the way that Boxer seamlessly integrates your email with your to-do list. Most of us adds items to our to-do lists based on requests from coworkers or our bosses, so integrating to-do list functionality into an email app is simply brilliant.
Conclusion and download link
When you sign up for Boxer, you will be told that while the app is free, it is usually $4.99. It will only be free for the first 100,000 people who download it. When I signed up earlier today, I was told that there were 85,392 free copies remaining. If you want to give it a try while its free, you'd better act fast. You can invite up to 20 of your contacts to download the app at signup, if you so choose. This app is attractive, and ideal for someone who's looking for an all-in-one email and to-do list app.
Price: Free
Version reviewed: 3.0.4
Supported OS: Requires iOS 6.0 or later

Download size: 11.8 MB
Related Posts