I think it's safe to say we're all disappointed with Siri. Yeah, she can help you with some small tasks, but she's hardly the helpful virtual assistant we were all hoping for. Sometimes, she just doesn't work…and if she does, it's a 50/50 shot as to whether you'll get a response, or just get her to search the web. Siri, at her core, doesn't seem able to learn as much as most of us would like. Osito, on the other hand, seems quite a bit more promising.
What is it and what does it do
Main Functionality
Osito is described on its App Store page as "a predictive intelligence application." Osito basically looks at your day, and gives you help to stay on schedule. The app alerts you of potential traffic congestion that might affect your travel time estimates to get to a meeting and advises you of weather conditions that could affect your wardrobe choices. In short, this app thinks of the things you might have forgotten about, or things you didn't even know about in the first place.
Pros
Clean, simple, and friendly aesthetic
No superfluous push notifications: pushes are sent only when they are needed and relevant
Does more than just meetings: it's also great for getting organized for a vacation or flight
Pull down on the home screen to see "Upcoming": everything that Osito is tracking for you, from next week's flights to hotel reservations to calendar events
Cons
As you might expect, you do need to be willing to share a lot of personal info to get this to work: location services, push notifications, and calendar access are required (with Gmail access recommended)
Discussion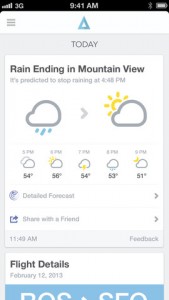 Osito is a great tool for staying on time and stress-free. Have two meetings in the same afternoon that are across town from one another? Osito will alert you when it's time to leave the first meeting in order to have time to make it to the second one.
But Osito is also a great app to have running in the background if you're a frequent traveler. 24 hours before departure, Osito gives you an itinerary and organizes all your info for the flight. As soon as you land, the app also pulls up your hotel info and suggests a local taxi company you can call to get you to the hotel (you could call the taxi company while you're waiting in baggage claim and have the cab waiting for you once you've retrieved your luggage.)
One thing that is great is the lack of superfluous notifications. Osito only chimes in when it needs to. And yet, you can also see how it will work in action, thanks to small touches like a demo version of the traffic alert or hotel info.
The latest version of Osito is version 1.4.14, which includes a bunch of fixes to combat crashing problems in past iterations of the app. The latest update also fixed a bug that was causing random log outs, plus it addressed an issue where the app was draining batteries. In other words, if you've tried this app in the past and been discouraged, it may be time to give it another look.
Conclusion and download link
If you don't have the budget for a personal assistant, Osito can help you with at least a few of the tasks a PA is normally charged with. This app is attractive, simple to use, and quite impressive.
Price: Free
Version reviewed: 1.4.14
Supported OS: Requires iOS 6.0 or later

Download size: 5.8 MB
Related Posts