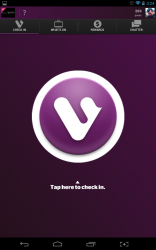 There are a lot of rewards program apps out there. For example, Shopkick is fantastic app that I absolutely adore. You earn points just for walking into your favorite stores and checking in, on top of that you can earn extra points for scanning the barcodes of feature items with your device camera. That may sound a little ridiculous until you realize that you earn points the whole time which can be redeemed for gift cards. What if there was a way to earn points like that without even leaving your house? Viggle is a similar application that allows users to earn points just for watching TV. There's a stipulation of course, you have to check in to the particular show you're watching.
What is it and what does it do
Main Functionality
Viggle is an entertainment application that allows you to not only earn points and rewards for watching your favorite shows, but learn more about them too. There's also a social aspect to Viggle, where you can chat with like-minded individuals or friends thanks to a connected Facebook account.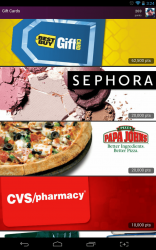 Pros
Check-in while watching TV and earn exclusive points

Just turn your TV volume up and the app will automatically detect what you're watching

Learn more about your favorite shows and chat with other fans

You can set a reminder that alerts you when your shows air

Browse a locally synchronized TV guide and discover new shows to watch
Redeem your earned points for a plethora of rewards (see the list of rewards in the discussion section below)
Chat with friends on Facebook from directly within the app
Available in USA only
Uses nearly 100MB of RAM (cached) while running, which is a lot
You need to sign-in to Facebook to use the chatter portion
You need to earn a lot of points to redeem anything, since you get 50-200 per show it might take a little bit

For example a $10 Papa John's gift card is 20,000 points
Discussion
First and foremost, Viggle is an entertainment application. The user interface is simple, yet slightly unique thanks to the purple theme. Of course, the tabbed screens look quite familiar. From left to right is the check-in screen, TV guide, rewards catalog, and chatter or social window.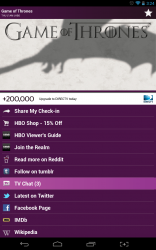 The first time you start Viggle, you will need to sign-up for a new account or you can connect with your existing Facebook account. I've said it before and I'll say it again, I always like to sign-up with a new account when using apps like this. How you login to the app is entirely up to you. You can also set a username and profile picture which is associated with your account.
The very first screen of Viggle is the check-in window. It's extremely easy to use. All you have to do is tap the screen and it will begin listening using the mic on your device. Obviously, you need to have the television on and the volume needs to be up high enough for the mic to pick up the audio. It will detect the show your watching and check you in automatically. The detection process is pretty accurate too, out of the many times I tried it never was wrong but there were a couple times where I had to search twice because it didn't detect anything at all the first time.
The second tab is for the TV guide, which shows you what episodes are currently airing and how many points you'll earn for checking into each. You can browse for featured shows, see shows that are being talked about most via the app (labeled as "most chatter right now"), and search for shows outright.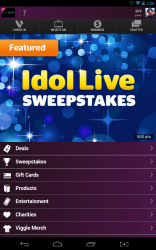 The rewards tab allows you to browse the extensive catalog of redeemable products. There are many different categories of rewards you can earn, which include the following:
Deals
Sweepstakes
Gift Cards
Products
Entertainment
Charities
Viggle Merchandise
Other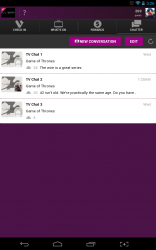 The chatter page or social chat feature requires you to login using your Facebook account. You don't have to login if you don't want to, but if you choose against it then you won't be able to chat. That being said, the chatter page is only for talking to close friends- or anyone you have added on Facebook.
When you check-in to a show it will bring you to a dedicated page for the series. From the dedicated page, you can share your activity (check-in), view series specific content, follow the show's social network profiles (Facebook and Twitter pages), visit the related IMDB page and look the show up on Wikipedia. You can also access a social chat for each TV series which allows you to interact with other fans of the series or show you are watching.
You can also set reminders for your shows, which will automatically alert you when they next air. Much like Facebook, you can also 'like' a particular show in the application which others will be able to see when they check out your profile.
For reference, Viggle uses about 100MB of RAM while running, which is pretty much a metric ton. In other words, it uses a lot of system resources, so you'll definitely want to close it completely when you're done with it.
Conclusion and download link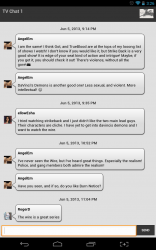 Viggle is one of many different reward apps but it brings something a little new into the mix — it offers you exclusive points just for watching your favorite TV shows. The points can be redeemed for gift cards to places like Best Buy, Sephora, Papa Johns, Chilis, Starbucks and more. You can also redeem points for products, charities, and other various goods or services. It does take a lot of points saved up to earn anything, but you receive anywhere from 50 to 200 points for checking into various shows. You can also watch advertisements and play mini-games to earn extra points. The app also has a social aspect which allows you to chat with other fans of shows you're watching, or even chat with some of your Facebook friends. You can also browse what's airing locally thanks to a quick sync with your local service provider (you choose who your cable provider is when you first login to the app).
If you want to get a little more out of your couch vegetation sessions and earn some points, and ultimately goods just for watching shows, then Viggle is great for it. Keep in mind it does use a ton of RAM, so make sure you force close it when you're done using it.
Price: Free
Version reviewed: 1.4
Requires: Android 2.2 and up
Download size: 8MB
Related Posts