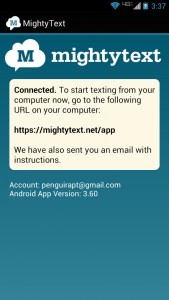 I was sitting around today playing with my tablet, and the whole time I kept receiving text messages on my smartphone. It made me remember one feature that Blackberry devices took advantage of with Blackberry Bridge in the past. Blackberry users could synch text messages from their Blackberry smartphone to their Playbook (tablet), allowing them to read and respond straight from their tablet without even using their phone. After all, it is kind of annoying putting down your tablet, which is perfectly capable of sending SMS via Wi-Fi, just to pick up your phone. I set out to find an application that allowed me to do this. I tried many different apps, some of which worked better than others, and along the way I came across MightyText. We've covered it here before as an Android App of the Day back in 2012, but only briefly.  MightyText allows you to send and receive SMS or MMS across multiple platforms, including a web browser, or in my case a tablet.
What is it and what does it do
Main Functionality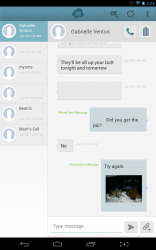 MightyText synchronizes the text messages on your smartphone so that you can read, and reply via alternate platforms like a web browser or your tablet. You can also send and receive MMS messages, and in the case of a tablet that includes sending images straight from that particular device. For this review, I'm going to focus solely on the connectivity with a tablet.
Pros
Uses clean and responsive Holo UI, optimized for tablets
Setup is quick and painless, just enter your email address and off you go
Read and reply to texts straight from your tablet, while connected to your

smartphone

You can also read and reply to messages from any computer through a web portal
No significant increase in battery drain, and decent with system resource usage (25-32MB of RAM)
Completely free and devoid of advertisements too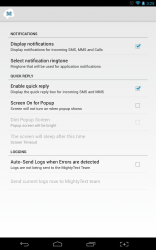 Cons
You cannot change the visual theme or customize the color palette
MMS or sending images did not work very well
Notifications are not synchronized between devices, when you read them on a tablet they remain active on the connected

smartphone
Discussion
The first thing you need to do in order to connect your smartphone and your tablet is install the MightyText application on both devices. You don't really have to setup anything else after that. The connection process is quick, painless and downright efficient.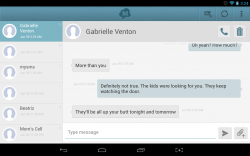 You do have to start the app on your phone first, because how else would your tablet connect to it? When first starting up the app on your smartphone, it will ask to synch with your email address. By default, it chooses the Gmail address associated with your phone, which also happens to be the one I would use anyway. After everything is all setup you will be presented with a confirmation screen, that also tells you a web address you can visit in your browser to start texting from your computer. We're not going to bother with that this time around.
Next, just start up the app on your tablet and choose the same email account as the one you selected on your phone. The two devices should link up automatically, and the rest of the connection process doesn't take long.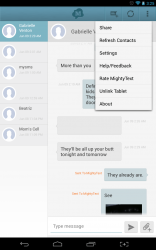 MightyText works great. You can truly send and receive messages on your tablet through your smartphone. In my case, I was able to read and reply to messages from my office while my smartphone was sitting on an end table in the living room. You can also visit the MightyText website in your browser, and achieve the same results from your computer.
The tablet version of MightyText is optimized to use the extra real estate supplied by larger devices. The UI makes use of the Android Holo theme, with a side menu and a scrollable content area. Considering a lot of apps out there are not optimized for tablets, I would consider this to be a pretty solid feature too.
Unfortunately, unlike GO SMS or a similar texting app you cannot change the theme or visual style in MightyText on your tablet. I was hoping this would be possible, because it's always a bonus when you can customize an app- especially when you're looking at the same screen and layout all the time. Still, it's hardly a deal breaking issue since the app works just as it should.
Another minor nuisance is the fact that when you read and reply to messages on your tablet, it doesn't update the notification on your phone accordingly. That means, when you return to your phone you will have all of those new notifications for content that you've already viewed. It's not that big a deal because you can just dismiss the entire group from the Android notification tray, but it would be great if message status synchronized across devices too. Hopefully, this is a feature that will be added in a later update.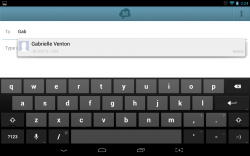 Sometimes when sending MMS or images from my tablet, the message would say that it went through, but the intended receipient did not actually receive the message. Instead, they got  generic message that said "Picture Message Sent. Body: [the text I typed along with the picture]." Personally, that's not a deal breaker for me either, because I rarely use my tablet to take pictures anyway. However,it is worth mentioning for anyone that would require said functionality.
I did not observe a significant increase in battery usage for either device. Even better, MightyText only used 25MB of RAM on my smartphone while running, and 32MB of RAM on my tablet. For a texting app of this caliber that's not too shabby, to say the least.
Conclusion and download link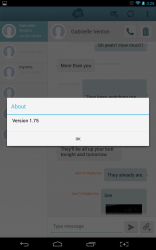 MightyText is a pretty useful application all around. When installed on your smartphone and tablet, it allows you to read and reply to text messages via an active Wi-Fi connection. You can also do the same from any browser on your computer thanks to an additional web interface. I didn't focus much on the browser setup, but I did use the tablet connection extensively. It works just as advertised, and you can handle all your text messaging remotely from a second device. I did run into some issues when sending MMS messages, or more specifically images, but for many that wouldn't be a deal breaker (it's still worth noting). The tablet app uses the Android Holo UI, and it's optimized for larger resolution devices which is always good to see. Furthermore, I didn't notice an increase in battery drain and the RAM usage is actually acceptable on both platforms (smartphone and tablet). If you're looking for an app that will allow you to read, and reply to text messages from your tablet through your smartphone then I recommend checking this one out. There are quite a few applications like this available out there, so if you have a favorite be sure to share it with everyone in the comments below.
Price: Free
Version reviewed: 3.60
Requires: 2.2 and up
Download size: 411KB
MightyText (for your smartphone) on Play Store
MightyText (for your tablet) on Play Store
Related Posts