The very word "diary" conjures up images of pre-teen girls writing about their "crushes" in a sparkly pink notebook. In reality, however, people of both genders (and all ages) have the desire to write down their secret thoughts. Everyone has secrets. Some are big, some are small…but they can all fit inside the virtual pages of My Wonderful Days Lite.
What is it and what does it do
Main Functionality
My Wonderful Days Lite is a free app for keeping a private journal. The app distinguishes itself from similar apps due to the inclusion of a "happiness meter," a sliding icon scale that lets you add emoticons to your journal entries to track your moods or feelings about a certain event.
Pros
Clean, minimal design
Attractive calendar view
Support for multiple languages
Passcode protected
Air Print your entries, if desired
Add photos to entries
Easily sort past entries by "happiness rating" or "most viewed"
Data is automatically transferred to Lite app if you upgrade to the full version
App uses sound and clever visual effects to make the journal look more realistic than other apps in this vein
App is also available for Mac
Cons
Lite version is limited to 10 entries only
Unlimited photos can be added to a given day, but only two stickers (and sticker selection is quite limited)
Random entry feature is iPhone-only
Discussion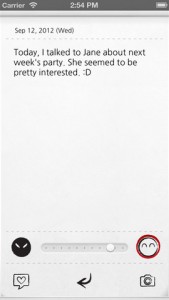 My Wonderful Days Lite has a very sleek, attractive UI. The overall look of the app is quite neutral, perhaps leaning slightly towards the masculine. From the home screen, you can see a list of recent notes you've made, alongside your happiness rating. You can go into the calendar view to write a note for a date that is not today's current date.
Under the settings portion of the app, you can set your birthday, turn on a reminder notice to make your daily entry, set up a passcode, or adjust font preferences. You can also set the text that will appear at the top of all new entries (the default being, "Today is…")
There are multiple ways to back up your diary. There's iCloud Sync, export to your mail account, PDF export, or WiFi backup.
Because My Wonderful Days Lite offers this ingenious little slider to gauge your happiness from entry to entry, it could potentially be a really helpful tool for people who are ill. For example, it would be a good symptom diary for patients going through chemo, or for people who are struggling to find a medication that can help them manage depression symptoms. The weather stickers, in particular, could be of special interest to someone who suspects they might have Seasonal Affective Disorder.
Conclusion and download link
If you want a small, private notebook to store personal memories or sensitive business info, My Wonderful Days Lite could work for you. Particularly if you want to track your moods/emotions over a long period of time, the happiness meter is a cool feature that really sets this app apart from similar products.
Price: Free
Version reviewed: 2.5.2
Supported OS: Requires iOS 4.3 or later

Download size: 32.2 MB
My Wonderful Days Lite on Apple App Store
Related Posts