PDFs are great. They're easy to view, and their clean look makes them ideal for sharing reports, articles, images, and more. You can password protect them, use to them to share read-only documents, compact, and self-contained. For all these reasons and more, it makes sense to have a PDF app on your iPhone. There are a lot of options out there, but one of the most attractive options out there is PDF it All.
What is it and what does it do
Main Functionality
PDF it All is an app for reading, converting, and sharing PDFs.
Pros
Converts a ton of different files into PDFs, from Word and Excel documents to webpages and PowerPoint screens. Mail, contacts, and messages can also be converted.
Simple, tile-based system for navigation
Import documents from Dropbox, take photos with your iPhone camera, or paste messages from your Clipboard
Export to Dropbox, Evernote, Google Drive, Box, and SkyDrive
Cons
Lacks preview window when saving a new PDF
Combining images is tricky
Discussion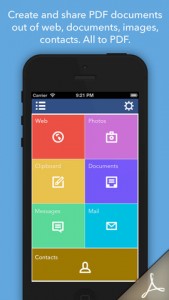 With looks that are somewhat reminiscent of the tile layout of a Windows phone, PDF it All has a bold, graphic look that's packed with bold colors. If you're the kind of person who loves color as a visual shortcut, the colored tiles here makes this app ultra-easy to navigate.
The web browser is a dream: attractive, zippy, and powerful. You can easily save webpages as PDFs so that you can view them offline in the future, and you can also set up a bookmarks section with your favorite pages. You can also print any PDFs to Air Print-compatible printers.
The conversion process is lickety-split. Just select what you want to make into a PDF, give it a name, and in just a few seconds, the conversion is complete! One thing that might be nice would be a preview window, so you could see how an entire webpage looks in PDF form, since it's hard to see a whole page at once on a mobile site.
The App Store page says that you can combine as many images as you want, but the controls for doing so aren't exactly intuitive. It is easy, however, to change the image quality of photo PDFs.
You might balk at the price tag: there are similar apps out there that do all this, but for less money. However, I actually managed to score the app for free when it was on sale recently. If you're willing to bide your time, you could add PDF it All to your app watchlist and wait for the price to drop again. I'm the kind of person who always pick free apps over paid apps, but this is one app I'm happy to make an exception for.
Conclusion and download link
If you need an iPhone app that handles PDFs with elegance and grace, PDF it All is a worthy choice. The UI is silky smooth, powerful, and pretty darn attractive. If you love PDFs, this app will make you love them even more.
Price: $4.99 (but does occasionally go on sale!)
Version reviewed: 1.1.1
Supported OS: Requires iOS 5.0 or later

Download size: 3.3 MB
Related Posts