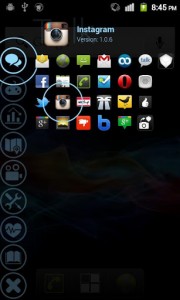 Recently I reviewed Taskbar- Windows 8 Style for Android. It essentially adds a Windows style taskbar and start menu to Android, which acts as a semi-customizable quick launcher. Personally, I'm not fond of bringing the Start Menu to Android, there's really no need for it, but the idea of always maintaining access to your favorite apps and shortcuts is certainly appealing. Swapps is a great app that offers that kind of functionality, but it's always good to have some alternatives. ReLaunch is a simple multitasking and quick-launch tool that allows you instant access to all of your apps from anywhere in the OS.
What is it and what does it do
Main Functionality
ReLaunch is a quick-launch tool, like Swapps, that allows you to access your apps even from within fullscreen applications. It's activated by pressing and hovering your finger on the area of the screen designated in the app settings. Installed apps are separated into categories, and you can quickly browse those categories to launch apps. Essentially, you don't have to exit the app you're already in by pressing home, open the app tray and navigate to the appropriate shortcut. Instead, you can just open the ReLaunch menu, scroll to your app shortcut and launch it.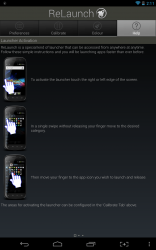 Pros
Adds a quick-launch toolbar to Android
It's always accessible even from within other

fullscreen

apps
During the first run it automatically categorizes all installed apps (requires internet connection)
Activating the overlay brings up a quick menu, where you can select an app to launch
It uses 25MB of RAM while running, which isn't too bad
Cons
There's no way to add custom shortcuts like folders or storage directories
Activating the overlay takes a little getting used to, but you can calibrate it to your liking
Not quite as powerful as

Swapps
Discussion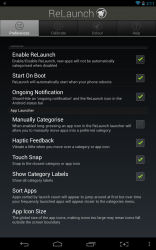 I'll start off by pointing out the most obvious thing, ReLaunch can be customized. The most important option users can setup is how the actual tool is activated. By default, you can launch the related toolbar by pressing and holding on either the left or right side of the screen. It's recommended that you change the activation area to one of the top corners, left or right.
The first time you launch the application it will categorize all of your apps, and while doing so it does require internet access. The categories that are used include the following:
Talk- messaging and browsers
Play- games and activities
Work- productivity related apps
Seek- Navigation, GPS
Relax- Media apps
Setup- Utilities
Live- Life related apps, like journals and things of that nature
Read- News aggregators, feed readers and eBooks
Lost- Apps that couldn't be auto categorized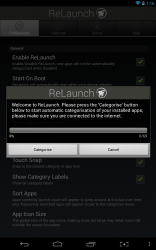 By pressing and hovering your finger in the appropriate area you will launch the overlay. To choose an app, in a single motion you have to swipe through the categories to the appropriate one, and then to the app icon for whatever you want to launch. It sounds a lot more complicated than it is. It did take a little getting used to, since you have to tap near the very edge of the screen. For a while I kept trying to tap further away from the edge than you're supposed to and nothing would happen. Now that I have the hang of launching the overlay I'm like a wiz kid with it.
There are a whole bunch of settings to configure when it comes to the launcher. You can calibrate the activation areas, through a simple UI. You can also customize the color of the launcher icons.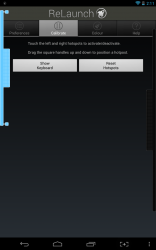 Other options include starting the app on boot, enabling or disabling the notification icon, haptic feedback, and more. You can also enable a manual categorize option that allows you to long press on an icon when the overlay is active and move it to a desired category.
Of course, the application is free but you can pay for a donate version to fund the developer and thank them for the time spent on the app.
For reference, ReLaunch uses 25MB of RAM while running which is pretty good for a launcher like this.
Conclusion and download link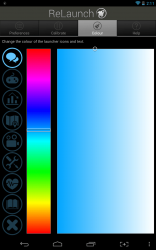 ReLaunch is a highly effective quick-launch toolbar for Android that allows you to maintain instant access to your apps at all times. It is easy to use, customizable, isn't too heavy on RAM usage, and just works. Unfortunately, you can't add custom shortcuts to folders or alternate directories on your device. However, the access to all installed apps should be enough for most. While overall I recommend Swapps over ReLaunch because Swapps has more functionality, ReLaunch is a good alternative to Swapps if you want something a little different.
Price: Free
Version reviewed: 1.4.3
Requires: Android 2.1 and up
Download size: 880KB
Related Posts