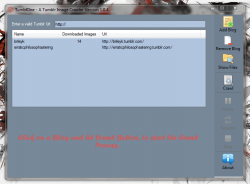 Tumblr is hands-down the best place to find images of all types. Beautiful art and inspiring images are certainly not a rarity of the platform. In fact, even though it's meant to be a blogging platform more people use Tumblr to share images and photos. Wouldn't it be great if you could collect all the images from your favorite blog in one place? TumblOne is a batch image downloader designed specifically for use with Tumblr. It saves the images to your computer which you can then share, view anytime or do as you see fit with them.
What is it and what does it do
Main Functionality
If you have ever browsed Tumblr before then I probably don't have to tell you that there's a lot of interesting content on there. TumblOne will query a particular blog that you specify, and then it will download all of the posted images to a local directory. Once the files have been downloaded you can browse them through the app, or you can make use of them as you would any other image file on your computer.
Pros
Simple UI and very easy to use
Downloads images from a Tumblr URL in bulk
You can download content from multiple blogs
Images are stored in a folder named after the source blog
Light on system resources, only uses 18,000KB of RAM while running
Cons
You cannot pick and choose what images are downloaded — all images at a URL are downloaded
Requires .NET Framework 4.0
Discussion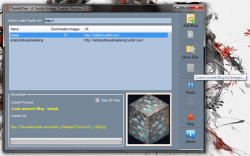 This application is portable, which means it comes in a compressed archive. In order to use the app, you'll first have to unzip the content with an archive tool like WinZip, WinRAR or 7Zip. Once the resulting files have been extracted, they can be run from any directory including an external or portable drive. Keep in mind though, because this app downloads image content from the internet you may need quite a bit of storage.
The TumblOne interface is pretty simple. The action buttons are lined up down the right hand side of the window. A URL or address box is displayed at the top, where you can enter a Tumblr web address. A listbox displays the saved blogs you download content from, and a preview area remains blank down at the bottom of the window until you start the crawl process.
You can add more than one blog at a time for the application to pull content from. All added blogs will appear in a listbox near the top of the window. You can remove a blog at any time, if you decide you no longer wish to download content from that particular URL.
It does exactly as advertised, and downloads content in bulk from a specific Tumblr URL. The process works pretty much like this, you enter the Tumblr URL of the blog you wish to get content from, highlight it in the listbox and then press the 'crawl' button. The application will query the related site and begin downloading the images. As TumblOne crawls the blog and downloads content, it will display progress information in the 'blog files' listbox down at the bottom left of the window. A preview of the current image is offered in the bottom right of the window.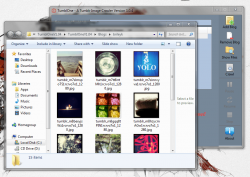 Once the crawl process has started, the app will automatically download all images from the selected blog. You cannot pick or choose which images you like, instead you get everything. You can, however stop or pause the crawl process at any time. It goes without saying, after being paused, the process can also be resumed. Just be aware this is an all or nothing deal.
Clicking on the 'show files' button brings up the storage directory for the downloaded content in Windows Explorer. All of the downloaded images are saved in a separate folder, named after the blog which they were taken from. Essentially, this allows you to browse local content on a blog-by-blog basis.
For reference, TumblOne uses nearly 18,000KB of RAM while running.
Conclusion and download link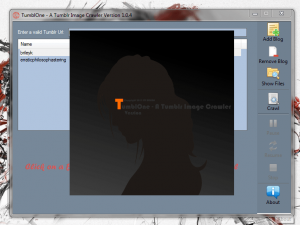 TumblOne is a convenient portable application if you want to batch download images from your favorite Tumblr blogs. It's portable, responsive and easy to use; downloaded images are automatically organized into folders named after the source blog. And once downloaded, you can treat the images as you would any other file on your computer — you can share them, edit them and even set them as your desktop wallpaper. While this application should not be used to download content and profit from someone else's work, it does exactly as advertised and will allow you to get images from numerous blogs and store it locally. If that's the kind of thing you're looking to do, check out this program.
Price: Free
Version reviewed: 1.04
Supported OS: Windows (XP, Vista, Seven, Eight)
Download size: 680KB (zipped), 947KB (unzipped)
VirusTotal malware scan results: 0/
Is it portable? Yes
TumblOne homepage [TumblOne download page]
Related Posts