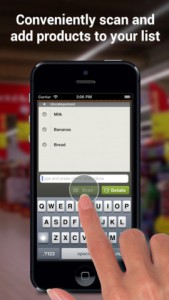 It's surprising hard to find a good shopping list app for the iPhone. You can use a note-taking app, or a to-do list app, or one of the many shopping list apps out there. There are tons of options, but I've still yet to find the one that's right for me. I'm starting to wonder if there are so many variations on the theme out there because no one has managed to crack the code and make the perfect grocery shopping app. That being said, I've heard good things about Out of Milk, so I decided to check it out for myself.
What is it and what does it do
Main Functionality
Out of Milk combines a grocery shopping list with to-do list functionality, creating a solid one-stop-shop app for all of your shopping and errand-running needs.
Pros
Great interface
Create shopping lists, "pantry lists," or to-do lists
Offers sharing for lists to prevent people from "double-buying"
Scan items to add them directly to a list with barcodes
Online interface and cross-platform support
Send lists by email and text
Cons
Some features require an account: shared lists, data sync with the website, and automatic data backups
"Deals" feature doesn't seem well-conceived: deal results could be much more targeted to the user's zipcode
Discussion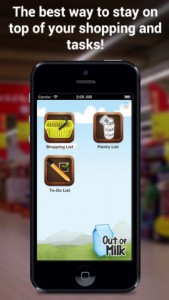 Out of Milk boasts a ton of features that make it really easy to use. I love that you can scan barcodes with your camera to add items to your list: it's a great way to quickly build your grocery list from items in your pantry that are running low. I also love the "grippies" that make it easy to re-order items on your list.
List sharing is also a great feature. That way, if you and your roommates both know you're running low on milk, checking this list is a good way to prevent both of you from coming home with a gallon. Double-buying is a thing of the past.
You can sign in with Google, Facebook, or email. Alternatively, you can choose to connect later and just dive right in to the main interface. From the home screen, you can make a to-do list, pantry list, or shopping list. You can also access a bevy of deals that are chosen based on your zip code.
The deals are good, but despite being distributed to users based on zip code data, Out of Milk's deal aggregation seems a little imperfect. There's no way to sort items by category. Well, there is, sort of. You can search by store, and then by sub-category, but you can't search all store across the same category at once. You can use a search, however.
Conclusion and download link
If you want an all-in-one app for making lists, Out of Milk is a solid choice. The deals need a bit of tweaking, but the core functionality is all there. Definitely give this app a try if you want a shopping list app that also boasts to-do list functionality.
Price: Free
Version reviewed: 3.5.1
Supported OS: Requires iOS 6.0 or later

Download size: 19.2 MB
Out of Milk on Apple App Store
Related Posts