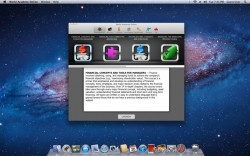 When I'm not writing iOS and Mac app reviews here at dotTech, one of my other gigs involves working for a publishing company. When I'm contracting with them, my role is simple: read popular business books, and produce concise summaries of each book's content for busy business pros who want to educate themselves and stay on top of new books, but who don't actually have time to read a book. It's sort of like Cliff Notes for business professionals. If you are a member of the business community, the Mac App World Academy Online can provide a similar level of ongoing business education.
What is it and what does it do
Main Functionality
World Academy Online is a free Mac App multiple courses on business. Both survey and advanced courses are represented. A "full" version of the app, World Academy Online: Complete Collection, will set you back $399.99. World Academy Online is also available for iPad/iPhone, and for Android devices via Google Play.
Pros
Works towards a certificate you can use to advance your career, improve you resume, or showcase your knowledge base
Wide array of study topics, from business communications to financial forecasts
Tests and flashcards test your knowledge, and wrong answers are explained
Bookmarks and glossary to help you stay focused and on-task
Developed in cooperation with bestselling business author Dr. Jae K. Shim
Cons
Some full courses require in-app purchase
Courses are somewhat expensive, in the $29.99 range
Interface could be more dynamic: the textbook-like appearance can make some readers zone out
App hasn't been updated once since its initial launch back in 2012
Discussion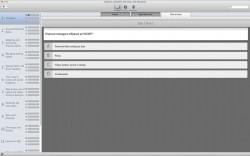 While there is plenty of knowledge to be had for free in World Academy Online, you should be prepared to shell out some big bucks for full courses. You can get a taste of many courses by sampling the first chapter for free. After that chapter, however, you'll have to shell out about $30 per course. Courses vary in length, with many coming in at around 20 chapters.
There's a pretty good array of classes here. Categories include Business, Finance, Real Estate, Management, and Investment. Specific courses include "How to Organize and Run a Small Business," "The Pocket MBA," and "Managing and Improving Your Cash Flow."
The costs of courses can add up rapidly, but they are still cheaper than taking courses at a traditional college or business school. Just be aware that you will need to pay some money in order to complete a full course, but you can still learn for free with selected introductory chapters.
Overall, the interface is decent. The text itself could use some more color and graphics. I think this would go a long way towards keeping some easily distracted readers from getting overwhelmed or bored from all the black and white text. Being able to test yourself on what you've learned (and get explanations for why answers were wrong) is a major plus.
Conclusion and download link
If you want to improve your business acumen, World Academy Online is a good way to get some knowledge (and maybe even a certificate) under your belt. It will likely cost you more than your initial investment of "nothing" to get all the knowledge you need, but this handy app is still a pretty interesting tool.
Price: Free
Version reviewed: 1.0
Supported OS: OS X 10.7 or later

Download size: 172 MB
World Academy Online on Mac App Store
Related Posts