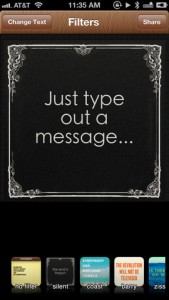 There's no question about it: Instagram is the premier photo filter app. It's got the best name, the best name recognition, and (arguably) some of the best filters and interfaces out of all of the other "retro filter" photo apps. So it's not surprising that apps that want to ape Instagram's success include a "stagram" somewhere in the name. Case in point: Notestagram (that's "note-stagram," not "notesta-gram.")
What is it and what does it do
Main Functionality
What Instagram is for pictures, Notestagram is for words and messages. With Notestagram, you can take text, slap a filter on it, and share with friends via various social networks.
Pros
Simple interface
Note images in Notestagram are the exact same size as an Instagram image (612px by 612px)
Share your creations via Twitter, Facebook, text message, email, or Instagram (or save to your photo album)
Great interface
Each new filtered version of your text loads super fast!
Cons
Additional style packs cost 99 cents each
Not all elements of certain filters are customizable: the text can be moved, but not some of the visual elements. Colors also can't be changed
Text wraps oddly in some filter sets
Discussion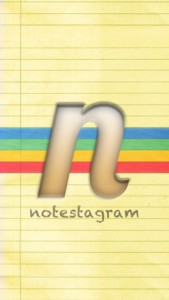 Notestagram is somewhat similar to an app we reviewed a couple of weeks back, Whims. Both apps have bold visual style and plenty of variety, though I'd argue that Notestagram has slightly more variety in terms of fonts, layouts, and overall panache.
In terms of variety, Notestagram offers 25 free filters/layouts for your text.There are three additional packs of filters you can buy for 99 cents each. These filter options include the "Feb '13" collection, an (admittedly outdated) Election pack, and the the newest pack: Fancy! The Fancy pack is definitely worth adding: it has just 5 filters, but they are quite luxe.
One thing that might be nice is a backup of your past creations. A full history would be nice, but I'd settle for just a "clipboard" of the last five things I've created. You can create your own backups with your Camera Roll of course, but I wish there was a history tab in this app that curated that stuff automatically.
Conclusion and download link
If you want to make your status updates pop, add some textual textures to your Instagram feed, or just kill some time, Notestagram is a great, simple tool. I enjoyed playing around with it immensely, and the fact that is plays nice with Instagram is a huge plus. There are definitely some issues I'd love to see tweaked in future iterations of the app. More customization for filters in terms of color and orientation would be nice, as well as a fix for some of those filters that don't play nice with longer bits of text.
Price: Free
Version reviewed: 1.1.1
Supported OS: Requires iOS 5.0 or later

Download size: 8.2 MB
Notestagram on Apple App Store
Related Posts