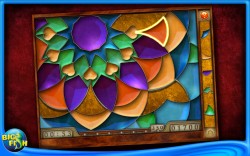 I'm a sucker for a good puzzle game. And while the iPhone is my puzzle platform of choice, there are times when I just want to kick back on my MacBook and veg out. I don't usually play a lot of puzzle games on my MacBook, but a recent release from mobile gaming juggernaut Big Fish Games recently caught my eye. Released on June 20th, Patchworkz is a new puzzler from Big Fish that has a lot of promise.
What is it and what does it do
Main Functionality
Patchworkz is a puzzle game developed for Mac OS X.
Pros
Gorgeous graphics
7 puzzle packs and 150 levels to explore, plus hidden bonus content you'll have to find yourself
Great blend of fast-paced gameplay and patient strategy
Chill music throughout
Cons
Free to download and play up to a point: full game unlock will set you back $9.99
Quitting is time-consuming: ESC key doesn't work as a way out of the game (in other words, this might not be a good game to play at work, because you can't dismiss it easily.)
Some puzzle pieces are hard to see because of the background color of the board
Discussion
There are two main game modes in Patchworkz. In regular play, you grab colored tiles and shapes from the side tray and find where they fit in the overall puzzle. In Fever Mode, you must clear as many levels as possible in the time allowed. For every puzzle you clear, you get bonus time.
One thing I disliked about this game is the seemingly long lag time between the end of one level and the start of the next one. I feel like that transition could be sped up by several seconds. If the idea here is that you get a breather in between puzzles, I get it…but the puzzles are pretty stress-free. I don't need that much of a breather.
Despite the fact that Patchworkz requires a minimum of OS X 10.6.6 or later, Big Fish has made a version of the game available for OS X 6 or earlier. If you're running an older version of Mac OS X, you can download the game here.
For a game that's this addictive, I still have some issues with how to quit it. Quitting involves no less than three screens, which I disliked. I wanted a simple tap of the ESC key to bring me out of the app. Also, quitting forfeits any progress you've made in Fever Mode.
Conclusion and download link
If you love puzzles with gorgeous images, chill music, and addictive gameplay, Patchworkz is definitely checking out. There are some minor flaws here and there, but overall, this is a relaxing puzzle game that is easy to get lost in. This game is everything I wish a rainy summer afternoon spent putting together jigsaw puzzles could be.
Price: Free
Version reviewed: 1.0.0
Supported OS: OS X 10.6.6 or later

Download size: 181 MB
Related Posts