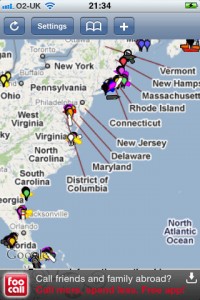 It hasn't been that long since the news cycles were dominated with horror stories about cruise ships. Whether its a collision or an outbreak of the Norwalk virus, cruise ships have been at the center of some memorable news stories. For the people back on dry land, getting news about loved ones on these ships can help ease fear. If you know someone on a cruise, or someone working on another sea-faring vessel, Ship Finder Free can give you some peace of mind during bad weather or bad news cycles for the maritime set.
What is it and what does it do
Main Functionality
Ship Finder Free offers a way to track ships around the world.
Pros
Lets you see the position of military ops vessels (some of them, anyway), tugboats, cargo ships, high-speed crafts, passenger vessels, and more
Great app for people running an older version of iOS (and the current version includes bug fixes for devices running iOS older than 4.0)
Color-coding for ships for ease of visual orientation
Cons
To track ship's destination and/or ETA to that destination, you'll need to upgrade to the paid version of Ship Finder. Paid version also allows for searching for ship by name
No search functionality to easily track a specific ship (you'll have to look on its proposed course to try and isolate it)
Annoying banner ads
Discussion 
The interface in Ship Finder Free is pretty good, though the lack of search functionality is frustrating. That being said, it is still quite simple to zoom in on various areas and see current shipping activity or other maritime activity.
The use of color-coding makes Ship Finder Free makes it easy to see what kind of ship you're looking at, at a glance. Green vessels are fishing, lifeboats are orange/red, passenger vessels are blue, pink are tugs, etc. Lighthouses are also clearly marked with lighthouse icons.
One thing this app appears to lack is any sort of news feed to relay weather conditions, maritime disasters, or that kind of thing. Being able to see areas of distress or potential distress would be helpful. Even basic weather for ships would be nice.
Now, if you want an app that is really feature-rich (vessel name, port of registration, destination, ETA, photographs of ships, and tech specs for vessels), you definitely need to upgrade. Ship Finder Free is still useful if you're just curious and "browsing" the high seas, but if you have a specific ship in mind, upgrading the app to the paid version is likely to cause you the fewest number of headaches.
Conclusion and download link
If you want to see where in the world your friends and family are (if they're at sea), then this app is for you. Whether you have a friend taking a cruise, or a brother serving on a cargo vessel, this app can be somewhat helpful. However, without a search function, destination tracker, or ETA to that destination, this app could be more frustrating than helpful for some.
Price: Free
Version reviewed: 2.51
Supported OS: Requires iOS 3.0 or later

Download size: 4.7 MB
Ship Finder Free on Apple App Store
Related Posts