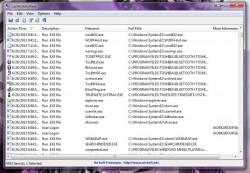 I've covered several system monitoring apps here at dotTech, that allow you to see what users have been doing on your computer like TurnedOnTimesView, and Check5. For example, TurnedOnTimesView will tell you about the system being turned on or off, and Check5 will tell you about files being altered. Both perform different actions and monitor different tasks, but neither actually inform you what someone is doing when they're browsing your computer. LastActivityView will actually log programs and applications that have been started on the computer in order to give you a more complete view of what someone was doing.
WHAT IS IT AND WHAT DOES IT DO
Main Functionality
LastActivityView is a free windows application that will monitor what's been going on with your computer. It pulls information from the system registry, which means the application does not have to be running constantly in the background to get a proper report. It tells you what applications were run last, what time they were started and even what type of file was related to the action. Essentially, it's a comprehensive monitoring tool unlike the other applications I've mentioned above.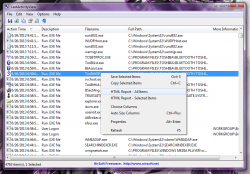 Pros
Simple user interface, easy to use
Compiles a detailed log on all activities performed on the computer in question
Export individual items or the entire log to CSV, TXT or HTML files
Find, copy, and save specific items in the log
Light on system resources, only uses 5MB of RAM while running
It's portable so you don't have to install it and that also means you can run it on any [Windows] computer via a flash drive
Cons
You have to open the help file separately, it's included as a "chm" (compiled HTML) format help file
Discussion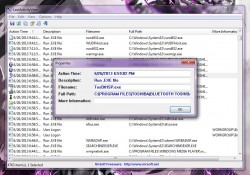 LastActivityView is a portable application, and it comes bundled as a compressed archive. Because of that you'll need an archive tool like WinZip, WinRAR or 7Zip to extract the related content. Once everything is extracted the application can be run thanks to a single executable file. It can be run from any directory including an external or portable drive.
When you first load the application it will pop up a UAC message, asking for the proper administrative rights. It needs them to read the registry so it can build the proper activity logs. It takes a few minutes after everything is all up and running for the application to build the complete log. My log had 4763 items, dating all the way back to July, 2009 which was when I first installed Windows. Even with that many items it took less than a minute for the application to fill in the content.
The application displays the following in the log:
Action time- displays time and date of the related action
Description- displays a description of the file, like "run .exe file"
Filename- displays the application name
Full path- displays the directory or file path associated with the app
More information- mainly used to display the network workgroup for logon actions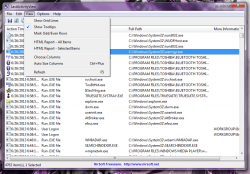 What types of activities are recorded by the logs? You can see executables being loaded, open and save dialogues being activated, files or folders being opened, software being installed, system shutdowns, startups, logons, application crashes, network connections and more. In other words, you name it, you can see it pretty much. Rest assured, if you want to know what someone has been doing on your computer then this app will most certainly tell you.
The information can be exported into several formats including CSV, HTML, or text files. You can also generate HTML reports for any of the items in the list individually, or all of them together. That's just in case you want to record the related logs or export the data to store elsewhere.
For reference, LastActivityView uses nearly 5,000KB of RAM while running, which is just under 5MB.
CONCLUSION AND DOWNLOAD LINK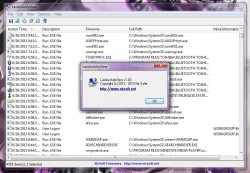 If you want to know what your computer is being used for, then LastActivityView will tell you. It collects information from the Windows registry and compiles it in a single convenient location. The application itself is lightweight, and only uses about 5MB of RAM while running. In addition, because it collects existing information from the registry, you don't have to leave it running in the background to generate a log — only run it when you need it. Is it the most beautiful piece of software around? No, but it's definitely practical. Check it out if you need this sort of functionality.
Price: Free
Version reviewed: 1.03
Supported OS: Windows (XP, Vista, Seven, Eight)
Download size: 68.3KB (zipped), 128KB (unzipped)
VirusTotal malware scan results: 0/47

Is it portable? Yes
Related Posts