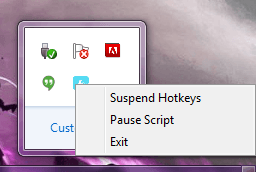 Some time ago I covered a handy little program called Preme, that offers several unique functions that alter the way you work with active windows. You can do things like open a stylized window preview, snap windows off-screen so they appear when you hover, and more. The most useful feature, allows you to long press on a window frame to keep a window always on top of others. Although Preme is a fairly lightweight application, what if you only want to use the 'always-on-top' feature? There's almost no point in downloading the app, which takes up system resources, if you only need one feature. Window On Top is a free Windows application that allows you to get that same functionality in a simple lightweight program.
WHAT IS IT AND WHAT DOES IT DO
Main Functionality
Window On Top is a portable and lightweight (using less than 2MB of RAM) application that allows you to quickly adjust a window to stay on top of all others through a hotkey. There is no GUI to the app, instead it runs quietly in the background waiting for your command. There is one drawback that might turn some folks off, in order to download the package from the Compzets homepage you must be logged in- you can sign in using your Facebook or Google account if you don't want to sign up for a proprietary account.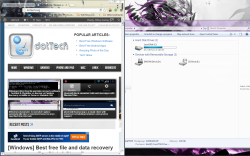 Pros
Simple and portable application to keep windows on top
Use a hotkey shortcut to enable the function (CTRL+T)
No GUI, but it does add a system tray icon with additional options

Suspend hotkeys
Pause script (temporarily disable app behavior)

Very light on system resources, uses under 2MB of RAM
Cons
This issue is not with the app itself, but you have to login to the developers website in order to download the app
The hotkeys are not customizable
VirusTotal flagged 1/47, with VBA32 detecting a Trojan.Agent. I scanned further with Malwarebytes AntiMalware and Microsoft Security Essentials (up to date), but neither application found anything fishy. So the 1/47 reading is probably a false positive but proceed at your own risk.
Requires admin access on Vista and higher.
Discussion

As I've mentioned above, you have to sign-in at the developers homepage in order to download the application. For some this may be unacceptable, and that's why I'm stating it now before we get started. When signing in with a social media account, the website will ask permission to access basic information about your account and your email address. This is so that the proper information can be related to your account, like display name, sex, email address and more. As far as I can tell, it does not specifically access your content nor does it make an attempt to post on your behalf. That being said, always be cautious about what sites and apps you give access to your social accounts. You should also know that you can revoke access through admin settings at the various networks anytime.
You do not have to login to use the application once it's downloaded.
Once downloaded, the files will come in a compressed archive. To extract the files you will need a program like WinRAR, WinZip or 7Zip. After the executable has been extracted, you can run it from any directory including an external or portable drive.
It's very simple, and there's no GUI to bother with. The application automatically runs in the background awaiting a user prompt. When you'd like to keep a window on top of all others, all you have to do is press the designated hotkey. By default, the "Ctrl+T" keys will enable and disable the on-top function. Unfortunately, you cannot customize the hotkey so you're stuck with the default.
It adds a shortcut to the system tray, which provides access to a couple pretty basic functions. By right clicking on the system tray icon you gain access to a context menu which allows you to suspend hotkeys, pause script or exit the application altogether. The suspend hotkeys action will temporarily disable the hotkey shortcut, while the pause script function will turn off any 'always-on-top' actions returning everything to normal.
The application works with all types of windows, applications or programs. I tried it with the Windows task manager, Microsoft Office apps, web browsers, properties windows, the calculator and more. If you need a window to stay on top, this application will certainly do it.
While running, Window On Top uses nearly 1200KB of RAM which is a little over 1MB. To translate, that means it is pretty light on system resources.
CONCLUSION AND DOWNLOAD LINK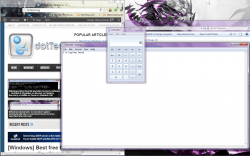 Window On Top is a simple and tiny application that allows you to enable the 'always-on-top' behavior for windows. It's free and it's also extremely light on system resources while running (less than 2MB of RAM usage). The necessary action is enabled or disabled through a quick hotkey shortcut, making the program very easy to use. Even better, it's portable so you can store it on any type of external drive and can run it without having to install. Unfortunately, you will need to sign-in to the developer's website to download the app, but it's a one-time deal — once you have the application downloaded you do not need to login at all in order to use it.
Overall, if you're looking for a quick and easy way to enable always-on-top functionality for windows, Window On Top is a viable option to do that.
Price: Free
Version reviewed: 1.0
Supported OS: Windows (XP, Vista, Seven, Eight)
Download size: 369KB (zipped), 850KB (unzipped)
VirusTotal malware scan results: 1/47

Is it portable? Yes
Related Posts