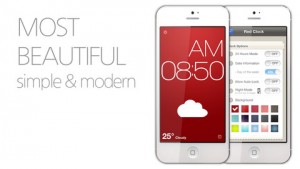 Alarm clock apps are one of those iOS categories that it's really hard to care about. As long as it tells the time correctly and has a loud alarm, who really can tell one app from the next? Most people I know simply use Apple's native clock app, but some of my friends are passionate about third party apps for their clock needs. One gorgeous alarm clock app that recently caught my eye is Red Clock FREE, and it may have changed by opinion about clock apps.
What is it and what does it do
Main Functionality
Red Clock Free is a simple app that provides a clock, an alarm clock, and simple weather conditions all in one handsome package. The app has multiple configuration options.
Pros
Great, sleek design
Contrary to what you might expect based on the name, Red Clock Free offers 15 different background colors to suit your mood
Minimal design quickly expresses current weather and time at a glance using icons
Double tap to go into "night mode'
4 different alarm sounds
12 or 24 hour clock
Temp readouts in C or F
Cons
Hasn't been updated since last year
Graceful look of the app is marred by banner ads (upgrade to the paid version to remove)
Discussion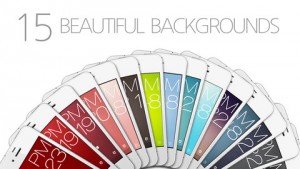 The highlight of this app is its minimal design. If you like your apps to look clean and polished, this is definitely the alarm clock app for you. The weather features are just the icing on the cake.
Speaking of those weather features, I love that you can get your weather in Celsius or Fahrenheit. I kinda wish you could have both displayed at the same time: that would be great for people who are traveling, or who have just moved to a new country and are trying to get used to a new system.
I really love the fact that you get your temp readouts to the tenth place (ie 73.6 degrees F). The screen will also cycle through humidity, windspeed, and a verbal description of the weather icon, such as "mostly cloudy.'
This app is so lovely, it would look great as the focal point in your bedroom or living room. Put it in a stand/charging dock where it stands up vertically, and it's really lovely to look at. There are tons of color backgrounds to choose from, so you can match to most decors with ease, if that sort of thing appeals to you.
Conclusion and download link
If you want a clock app with a bit of panache, I can't think of many apps that are as nice to wake up to as Red Clock Free. Being able to get weather and the time at a glance is really nice. The only sour note here is the ads along the top of the app: these can be removed with ease. For those who prize design above all else, Red Clock FREE is worth trying out.
Price: Free
Version reviewed: 1.0.1
Supported OS: Requires iOS 4.3 or later

Download size: 10.4 MB
Red Clock FREE on Apple App Store
Related Posts