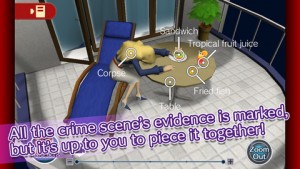 Some of my favorite things come from "brothers." Brooks Brothers. Super Mario Bros. The Venture Bros. Now, we can add another "brothers" to my list of favorite things: Layton Brothers Mystery Room, a new iOS game!
What is it and what does it do
Main Functionality
In the same game family as the popular Professor Layton games for the Nintendo DS, Layton Brothers Mystery Room features a protagonist called Alfendi Layton, who is the son of Professor Layton. You must investigate crime scenes, interview suspects, and review evidence to put criminals behind bars.
Pros
Has a cast of interesting characters and some challenging murders to solve
Good blend of main character story with the "crime of the week"
Investigate crime scenes to find clues that will solve the murder
Funny dialogue (if a bit punny at times)
Cons
As always, some gamers will complain that this game is too slow-paced and doesn't have enough action. The game plays out like an interactive, choose your own adventure comic.
Only the first two chapters are free, the rest require IAP
Cases must be played in order: no skipping around is possible
Discussion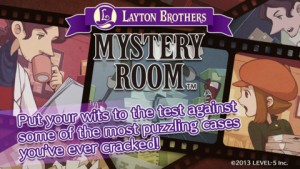 It's been a good couple of weeks for iOS gamers looking to get their hands on some popular Nintendo DS titles. The Phoenix Wright games came out for iOS just about a month ago, while Layton Brothers Mystery Room has only been out for a matter of days. The Layton Bros. game is new to iOS, and hasn't been available on the DS like other Layton games.
Having played both games on iOS, I can say that I vastly prefer Layton Brothers over Phoenix Wright. The stories are cleaner, and the graphics are less punchy and migraine-inducing in Layton Bros. I also feel like the characters in Layton Brothers Mystery Room are more engaging.
The basic structure for each chapter is as follows: learn of the murder, get info on the prime suspects, review the crime scene, interview suspects, gather more clues, formulate your final theories, accuse the suspect, and break them down until they confess. Each chapter also introduces more info about the two main characters, Lucy Baker and Alfendi Layton. Lucy works for Layton at "the Mystery Room," a branch of Scotland Yard.
You'll get two free episodes when you download the app, with additional episodes coming in bundles of varying costs. Episodes 3-6 are $2.99, while 7-9 will set you back $1.99. I know some gamers who hate free chapter-based games that make you pay for new content, but I actually like that tactic here. It doesn't feel like a cashgrab: it's a great way to reward a developer for good storytelling. If the story goes off the rails, you just stop buying new chapters. It's a format that's worked great for other iOS games, particularly The Walking Dead and EA's Cause of Death.
I think that the first two chapters give you a good taste of both the gameplay and the underlying plot. There are some interesting hints in the early chapters that the Layton of this game has a dangerous "Jekyll & Hyde" personality. The fun of crime solving, paired with the mystery of Alfendi Layton's personality, makes for a compelling little game.
Conclusion and download link
If you love crime novels or crime games, you should definitely grab this game and play the first two chapters for free. I'm pretty confident you'll get hooked right away.
Price: Free (additional episodes available via IAP, prices vary)
Version reviewed: 1.0.0
Supported OS: Requires iOS 4.3 or later

Download size: 146 MB
Layton Brothers Mystery Room on Apple App Store
Related Posts