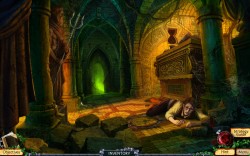 I'll be the first to admit that most hidden object games are annoying. One of the only ones I liked in recent memory was Reincarnations: Uncover the Past, and that was because the hidden object hunt made sense in the game's story (you're trapped in an asylum and need to find objects to help you escape and protect yourself.) Since that game had a dash of horror to it, I've been keeping my eyes out for another hidden object game that has a bit of a scare factor to it. As a huge fan of H.P. Lovecraft, I couldn't say no to Dark Mysteries: The Soul Keeper.
What is it and what does it do
Main Functionality
Dark Mysteries: The Soul Keeper is a hidden object game inspired by the creepy stories of H.P. Lovecraft.
Pros
Attractive, atmospheric graphics
Great sound design
Features real H.P. Lovecraft characters
Game comes packaged with a ton of extra features, including concept art, a bonus chapter, and an ebook of the original Lovecraft story this game is based on
Three levels of difficulty
Cons
The game is free, but progressing beyond a certain point will require an in-app purchase
Some of the hidden objects seem jarringly out of place, given the time period the story is set in
Voice acting is a little hammy at points
Discussion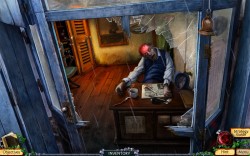 As the player, you are a detective who has been summoned to a mysterious island called Pawtuxet in order to solve a series of murders. The man who summons you is none other than Charles Dexter Ward himself. Lovecraft fans recognize Ward as the eponymous character from the short story, "The Case of Charles Dexter Ward," upon which Dark Mysteries is based. "The Case of Charles Dexter Ward" is notable for being one of the first stories to introduce the Cthulu Mythos.
Ward, as you'll learn just moments into the game, raised his ancestor from the dead. Now his ancestor is killing other people on the island in order to gain true immortality, and you must stop him. That can be hard at times: the controls are a bit persnickety, and there are times when it is frustrating trying to find exactly the right spot to use an object.
The game comes packed with a lot of cool extras, including concept art and a strategy guide. I also love the fact that they included an e-book version of "The Case of Charles Dexter Ward," which you can get as an ePub, Adobe, or Kindle file.
I could do with slightly more puzzles and slightly fewer hidden object interludes, as they do slow down the story somewhat. That being said, this game does a great job of capturing the creepy feel of a Lovecraft tale, though I do wish the mystery hadn't revealed itself quite so quickly.
Conclusion and download link
Whether you're draw to this game because of its hidden object gameplay or its connection to Lovecraft, there's a lot to like here. There's crime elements, mystery, supernatural horror, and plenty of things to get your blood pumping. Even if hidden object puzzles aren't usually your bag, give this title a quick peek.
Price: Free
Version reviewed: 1.0.55
Supported OS: OS X 10.6.6 or later

Download size: 659 MB
Dark Mysteries: The Soul Keeper on Mac App Store
Related Posts