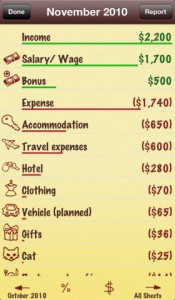 I think, in many ways, we've become a nation of quantifiers. Apps and social networks make it easier than ever to quantify the daily minutiae of our lives. Now, more than ever, we can know exactly how many friends we have, how many calories we've eaten, and how much money we have. Many of us are already entering data into our phones several times a day, so what's one more data-grabbing app? If you're into quantifying all aspects of your life, then a personal finance app like Smart Budget may be right up your alley.
What is it and what does it do
Main Functionality
Smart Budget is a personal finance app for iOS. Great for tracking your incoming and outgoing cash, the app can be synced across multiple devices: perfect for a family on a shared bank account trying to stick to a budget.
Pros
Planning and tracking expenses
Offers cloud synchronization for multiple devices in your family
Great alerts for planned expenses
Yellow legal pad is the default look for this app, but there are several other color options for the background if you want to mix things up (There are also four font options)
Cons
Overall app design mirrors a yellow legal pad, which some users may find boring and lacking in visual interest: the sameness of all the pages in the app can make data hard to read for some users who need more visual breaks to process content effectively
Free version is limited to 30 transactions: after that, you must upgrade via IAP for $2.99
Discussion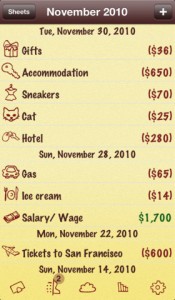 One thing that I really like here are the alerts prior to planned payment events. If you plug in the dates of upcoming bills, Smart Budget will send you a reminder 3 days prior to that calendar date.
You can view all of these upcoming events from the "Planned" menu in the app. Loan repayments have their own section in this part of the app's menu structure.
The overall app design is okay, though I did find myself getting confused a couple of times about where and how to plug in my information. The yellow legal pad look of this app can be changed up slightly, though the changes are limited to background color and font type.
One thing I found intriguing about the App Store description for Smart Budget was the ability to draw your own category icons with your finger. As cool as that sounds, I could not for the life of me find where I could do this in the app. Perhaps it is a feature that only gets unlocked after you upgrade via in-app purchase?
Conclusion and download link
While the Smart Budget app has a look that is divisive, the core functionality is solid. As long as you're aware that you will have to eventually upgrade this app, there's no reason not to give this app a spin. While it doesn't do much to stand out from the pack of other personal finance apps cluttering the App Store, Smart Budget offers a low-risk way to see whether you'll enjoy their interface.
Price: Free
Version reviewed: 1.6.1
Supported OS: Requires iOS 4.3 or later

Download size: 15.4 MB
Smart Budget on Apple App Store
Related Posts