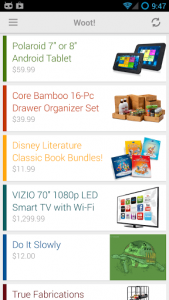 Who doesn't like deals? I'd argue that everyone does, and that's why services like Groupon, LivingSocial and Google Offers do so well. So naturally, any deal app for Android is going to do just as well, right? I don't really know the answer to that honestly, but this next app does sound pretty convenient. Deal Flux is a "daily deal aggregator" in that it shows a collection of daily deals available from a variety of sources. Currently it supports Woot, DailySteals, 1SaleADay and Yugster with "more to come," according to the developer.
What is it and what does it do
Main Functionality
Deal Flux is a visually appealing deal aggregator app for Android that allows you to find some pretty good stuff that also happens to be on sale. Most of all, it's presented through a beautiful and visually appealing UI. Some of the featured deal sites are a little more obscure than say Groupon or LivingSocial, but that's okay. There are still some pretty great deals to be had.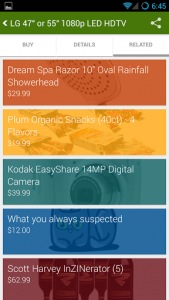 Pros
Clean and responsive UI, makes use of the Android Holo theme
Easy to navigate, and actually quite pleasing to browse
You can customize what deals and services are displayed
No login necessary to use the app, and no accounts required either
Cons
Requires Android 4.0 and up
Could use more content, like more deal services (the devs say it's on the way)
'Buy Now' button opens a browser window, would be nice if it was a natively supported feature
Uses nearly 42MB of RAM while running, which is quite a lot for an Android app
Discussion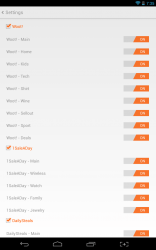 Right when you start the application you'll notice that the user interface is clean, responsive and just downright attractive. The visual style actually reminds me a lot of Feedly, a news aggregator app and feed reader.
At this point in time, Deal Flux only works with Woot, DailySteals, 1SaleADay and Yugster. The developers claim that support for more services will be available in the future. Personally, I truly hope so because even though all deals aren't always worth it, you can really find some gems through a lot of these services.
The main interface displays the content, just like a news reader. Down at the bottom of the screen is a banner advertisement, the developers need to make their money somehow. When you tap on the top menu button, a side-menu pops open allowing you to navigate between the different services. Each service has its own menu tab and selecting it will bring you to that site's deals of the day.
The settings option down at the bottom is relatively straightforward. Tapping on it will bring you to a menu where you can enable or disable various categories for deals. For example, if you only wanted to browse tech deals you would disable all the other categories. You can also enable or disable each service individually, if you like on more than the other.
When you select a deal, you are presented with three more tabs that range from buy and details to related. The buy tab showcases the deal or product, with a price and more. There's also a buy now button which opens the product page in a browser window through the related service.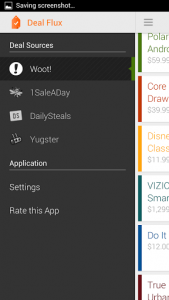 The details page gives you a brief description of the deal or product, while the related tab shows you any similar deals that are currently offered. I noticed that a lot of the related deals were way off in terms of similarities. For example, on a deal about elemental outdoor sleeping bags the related tab included a Dell laptop, a faux leather case for the iPad, and a Canon SLR camera lens. As you can see, those are really not that similar at all.
There's also a share button that uses the integrated Android share function to show off the deal. You can email links, share to Facebook or Twitter and even text it to friends.
Functionally speaking this app works great, and the design is fantastic. As for deals, there's a little something to be desired. You won't see the kind of high caliber deals that you would on Groupon or LivingSocial, but there are some decent ones here. Over time the deal offering will hopefully be fleshed out a lot more as the developer claims.
Don't get me wrong, I'm not saying there are no good deals offered, because it's quite the opposite actually. I'm just saying that there definitely needs to be more substance and more content.
One thing in particular that I dislike is the buy now button opens a web browser window. It would be nice if a payment system could be incorporated into the app so that customers are able to pay natively, without opening any other windows.
For reference, Deal Flux uses nearly 42MB of RAM while running. This definitely seems a little high for an application that merely lists deals in a clean interface. There are no animations involved and it's hardly a hardware intensive app.
Conclusion and download link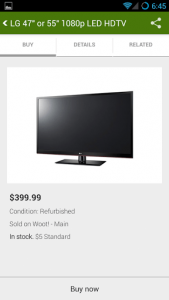 Deal Flux is a daily deal aggregator that allows you to keep track of daily deals from Woot, DailySteals, 1SaleADay, and Yugster. Currently these are the only websites this app works with, which is unfortunate because it would be nice to see more content; on the bright side, the developers have promised more websites are on the way so that's a positive note. The UI is beautiful, because it's clean, colorful, and incredibly responsive. The app does use a considerable amount of system resources at nearly 42MB of RAM usage, but that is the cost of such a beautiful interface.
Overall, if you're in the market for apps that offer Groupon or LivingSocial type deals — particularly in the market for an app that allows you to monitor deals from Woot, DailySteals, 1SaleADay, and Yugster — then you will enjoy this one. Otherwise, I would recommend return a little later when the app has been fleshed out support for some more websites.
Price: Free
Version reviewed: 1.1.1
Requires: Android 4.0 and up
Download size: 542KB
Related Posts