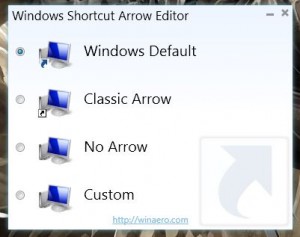 When you create a shortcut for an application in Windows, the system displays a very small icon over the image. It looks like a little curved arrow, and it basically helps you determine the shortcuts from the real executables. The thing is it kind of detracts from the visual style, especially if you use a theme that includes an icon package. There are registry edits and workarounds to remove the icon, mainly which involve replacing the original file with a blank image. Not everyone has the wherewithal to do that though. Windows Shortcut Arrow Editor is a simple application from WinAero that allows you to change the aforementioned icon, or remove it altogether.
WHAT IS IT AND WHAT DOES IT DO
Main Functionality
Before you flip out and start commenting on how this can be done with a registry edit. Yes, I know that. Windows Shortcut Arrow Editor is for folks that don't want to mess around with that kind of thing, and would much rather handle the necessary operation through a quick and painless interface. With Shortcut Arrow Editor you can remove the icon, use a classic XP inspired icon, or set a custom icon of your choosing.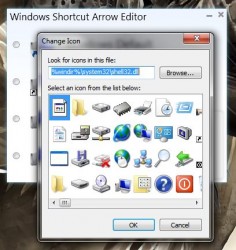 Pros
Very simple and easy to use
Replace or remove the arrow icon for program/file/folder/etc. shortcuts

You can choose a custom image, and the app comes packaged with sample icons
You can change the icon to a classic Windows XP themed arrow

Includes versions for Vista, 7 and 8 in both 32 and 64 bit variants
Not too heavy on RAM usage — uses roughly 14MB
Is portable
Cons
VirusTotal flagged 2/47 potentially harmful results, "WS.Reputation.1" by Symantec and "TROJ_GEN.F47V1120" by TrendMicro-HouseCall. Further scans with Microsoft Security Essentials and Malwarebytes Antimalware Pro turned up nothing, so the VirusTotal detections are probably false positives but proceed further at your own risk
It appears that the app hasn't been updated since October, 2012
Doesn't appear to support Windows XP
Discussion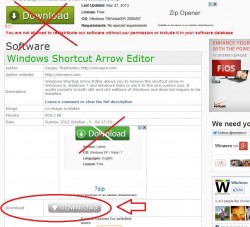 Windows Shortcut Arrow Editor is a portable application that comes packaged in a compressed folder. You will need an archive tool like WinZIP, WinRAR or 7ZIP to extract the related contents. Once the executable has been unzipped, you can run it from any directory including that of an external or portable drive.
Be careful when browsing the homepage for the app and trying to download the software. There are a lot of mock advertisements on the site with download buttons that actually have nothing to do with Windows Shortcut Arrow Editor. The real download button is grey and white about halfway down the page.
The application works for Windows Vista, 7 and 8. It actually comes bundled with a 32 and 64 bit version for each operating system. After extracting the install files you can choose which version you need.
This application is very simple, and gets right down to the nitty gritty. As soon as you start it up you'll be presented with all the related options it has to offer. You can choose from four different configurations for the arrow icon: Windows default, classic arrow, no arrow and custom.
Windows default is clearly the original icon state that comes with the OS. If you wish to return the icon to normal, you would load the app and choose this setting.
Classic arrow uses an XP themed icon, with just a simple black and white design. If you want to go retro or you're going with the nostalgia factor this might the option for you.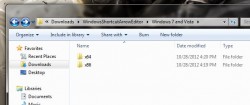 No arrow completely removes the arrow icon and essentially makes it transparent. All shortcut icons will be devoid of the mini icon you're accustomed to. This is ideal if you have a theme that uses custom icons, or you just plain hate the arrow image.
Custom allows you to specify an image that will replace the icon. WinAero actually bundles a folder of usable icons with the application which you can peruse and apply. If you'd much rather use your own image, you can do that too.
After applying one of the settings, the changes will be made instantly. There's no need to logoff, restart or configure any further options. It's easy, convenient and very quick.
For reference, Windows Shortcut Arrow Editor uses about 14,000KB of RAM while running which is just shy of 14MB.
CONCLUSION AND DOWNLOAD LINK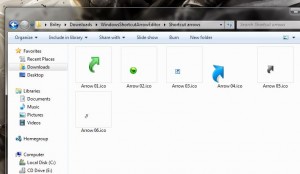 Windows Shortcut Arrow Editor is an incredibly simple application that does one very specific thing: it allows you to easily alter the mini arrow icon placed on program/folder/file shortcuts. You can remove the icon entirely, or you can replace it with a custom image of your own. You may be asking why someone would want to remove the miniscule arrow icon, but all I can say is that it's purely aesthetic. Sure that makes this a niche program, but there is nothing wrong with a niche program that serves the needs of a niche group. Plus this program is incredibly easy to use.
Overall, if you want to remove or replace the arrow icon added to shortcuts without messing with the Windows registry, this app will allow you to do so. Check it out.
Price: Free
Version reviewed: 1.0
Supported OS: Windows (Vista, Seven, Eight)
Download size: 808KB (ipped), 1.29MB (unzipped)
VirusTotal malware scan results: 2/47

Is it portable? Yes
Windows Shortcut Arrow Editor homepage
Related Posts