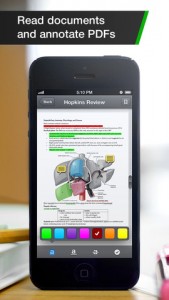 One thing the native Apple app library lacks is a one-size-fits-all document viewer, something that lets you access a bunch of different document types in a single app. It can be frustrating to have to keep switching between apps when you want to look at a bunch of different documents or files in quick succession. There are a couple of multi-tasking document apps on the App Store, but none quite so pretty as Documents by Readdle.
What is it and what does it do
Main Functionality
Documents by Readdle is an app that is part document viewer, part music app, part PDF annotation tool, part photo viewer, and part "read this webpage later" tool. In other words, it's an all-in-one tool that just makes life a bit easier.
Pros
Able to view Office documents
Able to view and annotate PDF documents
Able to view and edit TXT files
Gorgeous interface
Shift between icon view or list view of your files
Just updated this week to fix some bugs, making this app more stable
Highlight documents, share files, place virtual bookmarks in text files, listen to music in an attractive interface: this simple app is an all-in-one tool for enjoying your favorite documents and files
Also includes built-in web browser
Great for storing email attachments for easy access later: no more struggling to shift through a crowded inbox to find attachments!
Use password protection to safeguard your files
Sync with iCloud, Dropbox, or Google Drive
Sort files by name, date, or size
Cons
Interface occasionally seems cramped on the iPhone, but feels very open and breezy on the iPad
I wish I had found this app years ago!
Discussion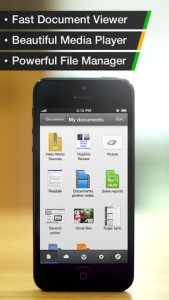 I really, really hate "all-in-one" apps. Every app that is labeled as "all-in-one" that I've ever tried has been useless. But Documents by Readdle doesn't call itself an "all-in-one," and that may be why it's so successful. This app can do so much, and it's so nice not having to switch between apps!
The first thing that struck me about Documents by Readdle is the interface. It's a really clean, modern, and frankly stunning bit of design. It's easy to organize your files by size, name, or date. I also love that you can sync with a variety of cloud services.
The simplicity of this app makes it a great tool for business, as well as for students. Having all of your documents, regardless of whether they are PDFs, text documents, audio files, or email attachments, is really nice. And it is a credit to the designers of this app that a jumbled pile of random files never looks messy or disorganized when placed in this app.
Overall, Documents by Readdle is really flexible. Whether you want a document reader that makes it easy to share, or a viewer that can help you keep a lid on your private documents, this elegant app is a steal.
Conclusion and download link
If you want a multipurpose document viewer, Documents by Readdle exceeds expectations. Not only can you view files, but you can annotate some of them. If you want a powerhouse app that can handle whatever you throw at it, Documents by Readdle should become your new go-to app for all kinds of document needs.
Price: Free
Version reviewed: 4.2
Supported OS: Requires iOS 5.0 or later

Download size: 39.2 MB
Documents by Readdle on Apple App Store
Related Posts