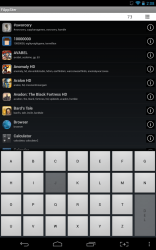 Apps, apps, apps. Today's handsets are all about the apps, and it only seems right. Mobile handsets are designed to get you in and out fast while you're on the go, and that's exactly what apps do- well, most of them anyway. What can cause a real pain though, is when you have dozens of apps installed on your device. Scrolling through the app tray takes a lot longer if that's the case. Placing shortcuts and icons all over your homescreen just clutters it up, especially if you like to keep things minimal. That's why the Google Search feature also returns app results when you start typing. Unfortunately, it's easy to make a mistake and pull up results for the wrong apps, because a lot of them have weird names, like this next app for example. FAppSter (Fast App Starter) is a quick app search and aggregation tool with a couple extra features thrown in.
What is it and what does it do
Main Functionality
FAppSter is an app search tool for Android that differs from the native Google Search, because of several additional features. It not only allows you to quickly start apps, but also helps you quickly kill or uninstall them too. Before even using the search function, it displays recently started apps in a list. As you type the search terms, it only gives you the option to select proceeding letters that correspond with apps installed on your device. For example, if you start typing "G" for Gmail, it will then offer you only the letter "M" to choose next if you have no other apps that start with "G" on your device. Of course, that's a silly example, because if it's the only "G" app it would show up in the results list right away, but you get the point.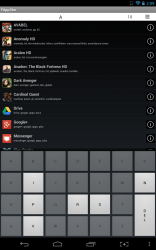 Pros
App quick search and aggregator tool

Works better, and much faster, than the stock Google Search bar

Greys out any letters that don't correspond with installed apps or results

This helps eliminate common typing mistakes

Offers quick access to the corresponding app page in Android settings

This is so you can force close or uninstall apps quickly

Portrait and landscape viewing mode support
Uses 18MB of RAM while running, which is not bad
Cons
No widget support (sad face)
Discussion
As of the time of this writing, FAppSter was actually a brand new app that only had one review available in the Google Play store. I only say that because it may be updated in the future to reflect newer versions. If that ends up being the case it will be clearly noted here.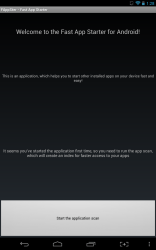 The first time you run the application, it will scan your device for installed applications. This will apparently "create an index for faster access to your apps." The scan only takes a few seconds to complete, so you don't have to wait long to get started with the app.
Once an index has been created, you will be presented with the main interface, which is actually quite simple. FAppSter does support both portrait and landscape viewing modes. In portrait the top menu bar displays the typed text, total number of apps install and an organization icon. Tapping the organization icon will switch the app view to a list or an icon grid like the stock app tray.
The center of the window is reserved for the installed apps (portrait) and the bottom of the window is reserved for the proprietary keyboard. FAppSter actually uses its own keyboard instead of an existing one that's already available. From the start, letters that do not have apps starting with them are already greyed out. For example, on my device I have no apps that start with the letter "j" so it's greyed out on my keyboard.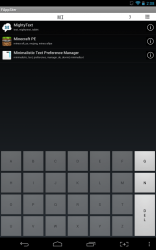 When you continue typing, the same approach exists for further letters. For instance, typing "Mi" on my device greys out every other letter on the keyboard except for "G" and "N". This is because the only apps I have on my device that start with "Mi" are MightyText, Minecraft and MinimalisticText.
This mechanic is useful for a couple reasons. First, it narrows down the search results so you can find the app you're looking for much quicker without having to type out the full name. Second, it helps mitigate chances for a mistake when searching for a particular app. You're less likely to type the wrong letter if most of the irrelevant ones have been disabled.
There's a little "i" icon displayed next to the name of each app, but it only appears in the list mode. Tapping on this icon will open the related Android settings page for the app in question. When in grid view, you can just long press on any app icon for the same results. This allows you to quickly force kill an app if you need to, or uninstall it. It's convenient because a lot of times, apps actually have to be force closed or "killed" in order to stop them completely. Simply shutting them down with a task killer doesn't always work. In those cases, you can pull up FAppSter, start typing the name of the app and then navigate to the appropriate settings page. This saves you from scrolling down a lengthy list of apps, after navigating to the stock Android settings. It does actually save you more time than you'd think.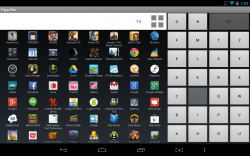 If you've read any of my other reviews, then you already know how keen I am on widget support. Unfortunately, FAppSter has none. This is a shame, because the app would translate almost perfectly to a small widget window I think. Hopefully, this is a feature that will be added in a future update (InWeb30 dev team, let's hope you're paying attention). It would be nice to have some kind of search bar widget, just like the Google Search bar. Even better, if a larger size widget was offered for those who wanted one.
For reference, FAppSter only uses about 18MB while running which isn't bad, but it could be better. Especially since you'll probably be opening other apps with this search aggregator, which means it will continue running in the background. Android is optimized to shutdown apps to free up resources when they are needed though, so the point may very well be moot.
Conclusion and download link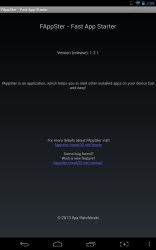 FAppSter is definitely an awesome app search and aggregator tool with some very useful features. The biggest benefit it offers can be attributed to the proprietary keyboard, which greys out letters that don't match subsequent results. (If the description of that feature doesn't quite make sense, be sure to check out the full review above as I've explained what it is.) You also have instant access to the stock Android settings page for various apps if you want to force close or uninstall them. Also, since this very simple launcher and search tool only uses about 18MB of RAM while running, it's decent on resource usage. It's a shame there's no widget support currently, but such features can easily be added in future updates. Overall, if you like the functionality offered by FAppSter, then check this app out; who knows, you may find yourself using it over native Google Search.
Price: Free
Version reviewed: 1.2.1
Requires: Android 2.2 and up
Download size: 189KB
Related Posts