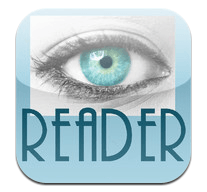 If you're one of the lucky people out there who has never needed glasses, I am SO jealous. I've been wearing mine since grade school, and my vision seems to get a little worse every year. If you've got poor vision and you've forgotten your glasses at home (or your current pair of specs just won't cut it any more for whatever reason), there are a few iPhone apps out there that can help boost your vision using your iPhone camera. Often advertised as being good for seeing small print menus in darkened restaurants, these types of apps can also help you see fine print on bottles of prescription medicine or other tiny type. One such app is EyeReader.
What is it and what does it do
Main Functionality
EyeReader is a tool for magnifying text and adding light, making it easy to read in low light conditions.
Pros
Helps people to magnify text
Adds in light from your camera flash to make text easier to read under low light
Great for people who forgot their glasses, need new glasses, or are too vain to wear specs in the first place
Small app size takes up very little of your precious storage space
Simple pinch to zoom controls that work like a charm
App also offers "mirror" functionality (use of forward facing camera)
Cons
UI is a bit clunky: control placement seems a little weird in spots. Plus, some of the font sizes seem small for an app designed for the visually impaired.
Those of you still rocking a 3GS, you're out of luck:  this app requires the iPhone 4 or higher.
No way to "freeze" images on screen, though you can take a pic and look at it in your camera roll
LED light controls could be problematic: they can be activated by tapping a button, or by shaking the phone. I can just see an elderly person with shaking hands accidentally setting off the lights a lot. That being said, I couldn't get the "shake turn on" method to work
App hasn't been updated since the Fall of 2012, which means it may no longer be actively updated
Discussion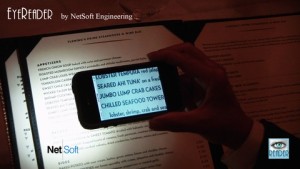 EyeReader does a lot of things right. It lets you make use of the iPhone's camera flash to cast some light on whatever it is you need to read, which is crucial for an app of this type.
The zoom capabilities are smooth, and powerful. There are some scathing user reviews on the App Store that criticize this app's zoom capabilities, but I think they must refer to an older version: the zoom worked great for me.
That being said, there are some issues. Other apps of this ilk let you freeze an image, which is awesome. Here, however, you have to snap a picture of what you're looking at, and then move to your camera roll to see the image. That seems like an extra step that's not strictly necessary. There also seem to be zoom in and zoom out buttons that do nothing when I touch them: the only way to zoom is by pinching over the live camera feed.
The app lets you switch between magnifier mode and "mirror" mode (aka using the front-facing camera to look at yourself.) It's a nice feature, but it seems a little out of place. I wish the developers had skipped over the mirror feature and worked on making the magnifier more user-friendly.
Conclusion and download link
EyeReader has some annoyances. It's not a bad app, but it also doesn't do very much to stand out from similar apps in this category. It's good in a pinch if you've forgotten your glasses and need a bit of help reading find print. There are better apps in this category, with more robust features. However, this app isn't terrible, and it's an acceptable choice.
Price: Free
Version reviewed: 2.2
Supported OS: Requires iOS 4.3 or later

Download size: 0.8 MB
Related Posts