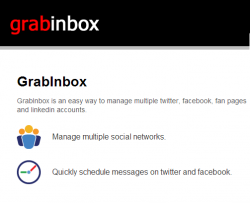 Social media management tools exist for the sole purpose of helping you manage your multiple social network accounts. With the help of these tools, you can efficiently manage your time and focus more on what's really essential. Speaking of which, there is this free tool called GrabInbox and it lets you schedule your tweets and Facebook status updates in bulk.
What Is It and What Does It Do
Main Functionality
GrabInbox is a free web tool that is designed to manage your multiple social network accounts. Through this tool, you can monitor and update your Twitter, Facebook, Facebook Pages and LinkedIn accounts in one convenient user interface. You can also share any page or post that you find interesting by simply using the tool's Google Chrome plug-in or bookmarklet.
Pros
Clean user interface, very easy to use
You do not need to upgrade just to use all of its cool features
You can link and manage multiple Twitter, Facebook, Facebook Pages and LinkedIn accounts
You can monitor your social network activity and respond to your connections via DMs or @replies
You can schedule your tweets, Facebook and LinkedIn status updates in bulk
The status updates that you've placed on your queue list will be posted according to your preferred timeslots
Provides a free Chrome plug-in for sharing posts and pages, non-Chrome users can make use of the tool's web browser bookmarklet
Cons
No support for other social networks such as Tumblr, Pinterest and Google Plus
Some minor bugs and glitches (e.g. duplicated status updates in the queue list)
Discussion
What sets GrabInbox apart from its fellow social media management tools is that you can actually use all of its features for free. You aren't required to upgrade to the tool's premium service just to schedule your tweets in bulk. Plus, you get all of the most common features that you can usually find on other services such as HootSuite or TweetDeck. It is also very simple to use and you can easily navigate through its clean UI.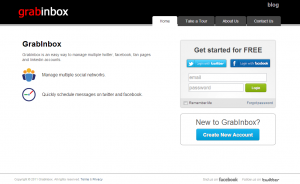 On the other hand, the GrabInbox Chrome plug-in provides a practical way of updating your multiple social network accounts. The same goes for its web browser bookmarket. Through these tools, you can easily share lots of interesting posts without the need to go to your GrabInbox dashboard. Just click the plug-in and you can easily post your updates to all of your linked accounts. You can even schedule your status updates at a later date.
Out of all the free social media tools that I've tried and tested, I could say that GrabInbox definitely stands out. It's just that it could've been better if I could also use it to manage my Google Plus, Tumblr and Pinterest accounts. It also has some occasional bugs and glitches. For example, there was this instance where I had to disconnect one of my Twitter accounts since its queue list kept on showing tons of tweet duplicates. Nonetheless, that issue was fixed right after I reconnected my account.
Conclusion and Download Link
For those who wish to bulk schedule their tweets as well as their Facebook and LinkedIn status messages, I recommend that you use GrabInbox simple because it won't require you to pay for a monthly subscription fee. Its features may not be as advanced as other professional social media tools but it's pretty decent considering that you're availing all of its features for free.
Price: Free

Version reviewed: 2.5.3

Requires: GrabInbox is a web app that works on any web browser but the plug-in can only be installed on Chrome, non-Chrome users must use the bookmarket
Related Posts