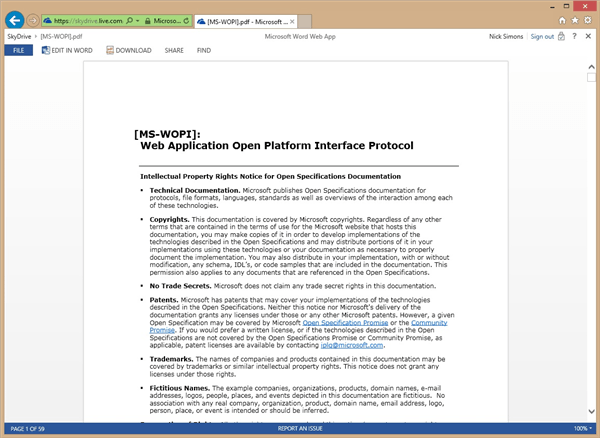 After what seems like forever, Microsoft has finally brought PDF support for SkyDrive, Outlook.com, and Office 365 using Word Web App. This has been a feature many users have been asking Microsoft to implement for quite some time, it is great to see the company listening to its users and following through with what they want.
With this new feature available in Office Web Apps, users can view PDF content from within the browser without the need of any special PDF application. We took the plunge and tested this new feature ourselves, and can safely say it works really well. We have yet to come across any major flaws, though for some reason, there are three different icons for PDF.
When attempting to view a PDF file in SkyDrive, just simply click on the PDF document and it will automatically launch in Web Apps. In addition, if you want to download it for the purpose of viewing in your native PDF reader, that option is also available to you. Furthermore, if you are in your Outlook.com account, you can view a PDF attachment by clicking "view online," or click the icon itself to download the file to your computer. For those who are using Outlook Web App (Exchange), follow the same procedure and it should work just fine.
Currently, SharePoint and SkyDrive Pro users are having problems viewing PDF documents, we recommend waiting for word from Microsoft on a future update before attempting to view documents again.
With the addition of PDF viewing in Office Web Apps, Microsoft is bolstering its cloud platform to keep in contention with Google Docs. The only thing Web Apps is missing right now is the ability to auto save while working on documents, which is a real pain if electricity should ever go out.
[via Office Blog]
Related Posts