A memo pad or notepad is a very handy application. You can use it to list down the things that you don't want to forget. It's just that not all notepads are good enough to suit your standards. You might want a notepad that has an auto-sync feature just so you could easily access your notes via web. If you are not satisfied with your current memo pad, you might as well check out this simple note-taking tool for Android called AK NotePad.
What Is It and What Does It Do
Main Functionality
AK NotePad is a simple text note creator that is similar to the built-in memo app that you have on your Android device. What makes it different from other memo pads is the fact that it has a "Note Sync" feature that automatically creates a backup copy of your saved files. It also uses a special security feature that helps keep your notes safe from snoopy folks.
Pros
Clean and simple
Customizable themes, fonts, text sizes and notification ringtones
Provides option for importing and exporting notes to SD card
You can pin your notes to your home screen
You can share your notes via Facebook, Twitter, SMS, Gmail and Bluetooth as well as to other messaging apps that you have on your Android device.
You can sort and organize your notes via tags or labels
You can opt to use a "Passcode" to lock your private notes
If enabled, the app will automatically sync your notes to your Catch.com account
You can use the "Search" tool to search for a particular text note
Cons
There are only a limited number of themes and fonts
You cannot upload or attach a photo to your memos
For pinned notes, the actual note won't appear on the home screen. You need to tap the memo icon first before you can view your note.
Discussion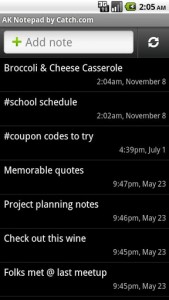 Compared to other memo apps, the AK NotePad app for Android is simple and direct to the point. In other words, you shouldn't expect it to have all of those fancy notepad designs. What you see is what you get. It doesn't divert your attention to other elements. Its notes are purely based on tags and texts. There are no emoticons and you can't even change the color of your text.
For others, this may not be a good thing since the app lacks something that would make the notes a bit more "stylish" and "personal". However, it does offer a quick and easy way of taking notes. It also provides an efficient way of managing your notes since you can easily access them on any device such as your PC or laptop. All you need to do is to access your account at Catch.com. Just keep in mind that this feature is optional. It's totally up to you if you want to create a backup copy of your notes and memos.
As for those who greatly value their privacy, you can opt to lock your AK NotePad. If you lock your app, whoever attempts to open your notes will be blocked by a 4-digit passcode. Thus, it is important that you keep your passcode a secret. Aside from this, you can also send and share your notes to your contacts via Bluetooth or Email. If you want to search for a particular note, I recommend that you include a specific tag. For example, if your note is all about shopping then you can use the #shopping tag.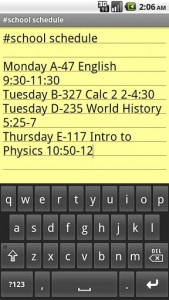 Needless to say, this app is simple yet very reliable. Even so, it would be nicer to see more options for theme and font customization. I just feel like having five simple notepad themes isn't enough and it leaves me craving for more. It also wouldn't hurt to see a new feature that will allow the users to add their photos.
Conclusion and Download Link
Sometimes the best things in life come in simple packages. In this case, AK NotePad serves as a perfect example of a simple note-taking app that doesn't need a lot of fancy features just to win the hearts of users. It literally chose to stick to its main purpose and that is to help you keep track of the important things that you don't want to forget. I recommend this app to anyone that wants to needs this sort of functionality
Price: Free
Version reviewed: 2.4.5
Requires: Android 1.6 and up
Download size: 1.9MB
Related Posts