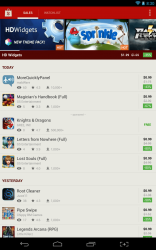 One of the best things about the Google Play Store is that there always seems to be a great selection of apps and games on sale. Unfortunately, most of us are too busy to check the app store for good deals every day. Especially when you consider the fact that there are more than 700,000 apps available in Google's mobile marketplace. There's absolutely no way anyone could ever stay on top of every app that's on sale. Although, wouldn't it be great if there was an app for that? AppSales is an Android application that displays all active deals in the Google Play Store. On top of that you can customize a watchlist and view the price history of any user specified apps.
What is it and what does it do
Main Functionality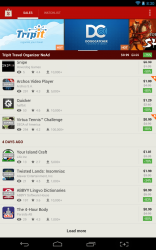 AppSales is an Android application that displays current sales for apps and games that are available in the Google Play Store. It essentially aggregates all discounted apps and includes them in a single convenient list which you can check regularly. You can also designate apps to include in a watchlist and the app will alert you when they go on sale. Of course, in the results listings sponsored apps are offered up too, and they seem to work as advertisements. The ads don't cause any consistency issues as sponsored apps are clearly outlined as such, but it's certainly worth noting.
Pros
Displays all the current deals in Google Play, and you can also review past sales to see what you missed
The app description page is almost identical to the Google Play page, even includes a video trailer and homepage link
The "get it" button will take you directly to the related Google Play page (it opens in the stock app)
You can add apps to a watchlist and receive notifications when there's a price change
Social features include sharing to Facebook and Twitter (login required), and making comments on an app description page
Inactive deals are clearly marked on the main "sales" tab with an "expired" tag
Cons
There are sponsored apps (ads), but they're clearly defined
No additional screenshots for apps or games
Uses 42MB of RAM while running, which means you probably want to force close the app after checking out deals
It is possible to encounter a deal or two every so often that's no longer active
Discussion
I'm going to start this review out a little differently. Instead of jumping right into what AppSales has to offer I'm going to highlight one of the biggest pet peeves I have with it, and then go from there. Since this is essentially a dumbed down version of the Google Play Store I was quite shocked to find out that there is no way to browse screenshots associated with a particular app. Unless I missed something entirely, the app descriptions seem to include everything but screenshots. When it comes to standard apps this isn't such a big deal, but when looking for mobile games it's definitely an issue. I know I'm not the only one that likes to take a quick peek at what I'm about to purchase.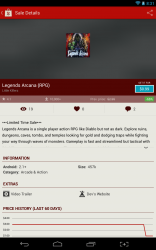 That being said, every app includes a link to a video trailer and the dev's website in an extras section, just like the Google Play Store. Also, tapping on the "get it" button will bring you directly to the Play Store so you can just browse screenshots there if necessary.
In addition to current deals, the app aggregates past deals, as well. Sometimes it's possible to encounter a deal that is no longer active. For the most part, deals that are no longer available are branded with a small "expired" tag in the results list
If those issues bother you then you might want to move on now. Some of them may or may not be fixed in future updates, but hopefully you should know there's no guarantee with mobile apps.
By now you're probably wondering, what exactly does this app do right? I'd say with exception to the issues I outlined above, it's spot on for a deals aggregator. Namely the lack of screenshots is an issue, but it's just an inconvenience as you can always jump to the Google Play Store to see them.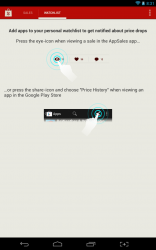 When you open the app, right away you'll notice the simple, yet attractive UI. There are two tabs in the top menu, which are "sales" and "watchlist".
The sales tab displays the most recent deals, separated by the number of days they have been available. At the bottom of the list, you can tap "load more" to look at a more extensive sale history for apps. This is great if you want to browse through the list and see if any past deals are still active. Inactive deals will have an "expired" tag on the app icon in the list. The inactive tag isn't 100% accurate, but it's not wrong enough to render the app useless. However, every once in a great while, you might encounter an app that hasn't been updated to reflect the sale status yet.
Tapping on an app result in the list will bring you to a description page which pretty much emulates what you would find in the Google Play Store. Displayed is an accumulated rating (out of five stars), a quote of device installs, and the regular price. Below that are proprietary interaction buttons for the app, which include options to add it to your watchlist, share it on Facebook or Twitter (login required), or provide a comment. The extras section includes a video trailer and a homepage link, along with a price history chart and related app listings. Tapping on the familiar blue "get it" button will bring you to the appropriate Google Play page.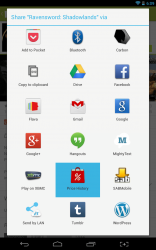 Moving on to the watchlist tab, it includes any apps or games you want to keep an eye on. There are two ways to add apps to your watchlist. You can either tap the "eye" icon on an app details page within AppSales, or you can use the Android share button from the Google Play app and send the link to "price history". If that doesn't make sense then just take a gander at the screenshot to the right.
Through the application settings you can configure a couple of additional options. You can set discount percentage filters which only show apps with a certain deal percentage, by default this is set to 25% for the minimum discount and 1,000 downloads (installs) for the minimum. You can also filter out various categories that are separated by games and apps. For example, if you don't want to see "health and fitness" apps you can just uncheck the appropriate category to filter them out of your search results. If you so desire, you can disable –or enable- push notifications and set the refresh interval for the app which is set to 4 hours by default.
For reference, AppSales uses about 42 of RAM while running. For an Android application that's actually quite high, so you might want to consider force closing the app after you're done checking out the latest deals. Of course, this would also negate the push notification support until you started the app back up again.
Conclusion and download link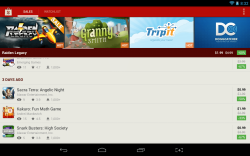 If you have ever wanted a comprehensive list of the latest deals available in the Google Play Store — if you ever wanted an easy way to find apps and games on sale — then AppSales is what you need. There are some minor issues with the app, but they can be overlooked for the most part. Unfortunately, AppSales does use a large chunk of system resources, but you can always force close it if necessary. The UI is clean and attractive and it's certainly a pleasure to use. Although, I don't like the fact that you can't look at app and game screenshots from within AppSales, but luckily there's always a link to the appropriate Google Play page. Long story short, if you want an up-to-date deals aggregator for mobile apps, then AppSales is worth checking out.
Price: Free
Version reviewed: 3.1.1
Requires: Android 2.1 and up
Download size: 2.0MB
Related Posts