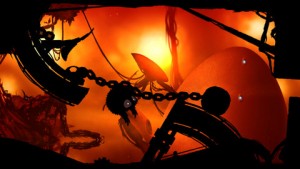 So, I came back from a lovely long weekend in the middle of nowhere and was delighted to discover that the App Store is offering a ton of free game and app downloads for iOS. Apple's making these games and apps available as part of the run-up to the fifth anniversary of the App Store. The games included in this promotion are Where's My Water, Tiny Wings, Infinity Blade 2, Superbrothers: Sword & Sworcery EP, and Badland. All of these games have pushed the envelope in terms of what the iPhone can do, and picking out the best title of the bunch is hard. While it may be a bit of an "apples and oranges" comparison, Badland gets my vote for the best freebie from this group.
What is it and what does it do
Main Functionality
Badland is a beautifully rendered iOS game that is rooted in physics and platforming.
Pros
Amazing for both solo players and those who dig the multiplayer experience
Universal app with iCloud sync across devices and absolutely zero in-app purchases
Traps, obstacles, and mysteries: what more could you want from an atmospheric platformer like this?
Cons
I want more levels! (Though it should be noted that the update to 1.3 gives the player 10 new levels and 30 new missions)
Some players may complain that they can't play levels out of order
Discussion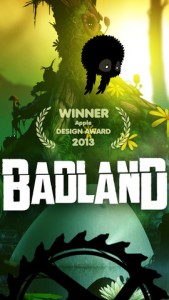 This game totally flew under my radar when it was initially released, and I'm playing through for the first time now. Being new to the game, I have to say it's really fun. Comparisons have been drawn between Badland and games like Limbo or World of Goo, and those are apt comparisons indeed. It's the perfect casual iOS game: challenging, beautifully rendered, relaxing, and a little bit pulse-pounding all in one package.
In Badland, you're tasked with guiding a little ball of goo across the screen. Along the way, you have to avoid obstacles that will trap you. It sounds simple, and it is…up until the point that it isn't. The amazing environments and atmospheric sounds featured in Badland make it one of the prettiest games on the App Store.
I also love the fact that you can play solo, or take advantage of the multiplayer mode for up to four players.
So, why do I like Badland so much more than the other games being featured in this promo? Well, Tiny Wings gets repetitive in a hurry for me, and I rarely play more than a few levels in a sitting before getting bored. Where's My Water? is fun, but it feels pretty superficial, despite being fun.
Infinity Blade 2 is awesome during the fights, but the dialogue is stilted and a bit cheesy, and the post-battle stats screens really feel choppy. I want more swords and less talking in this game! Sword & Sworcery is just plain awesome, and it's nearly equal to Badland in my book, though I will admit S&S has one of the best iOS game stories, EVER.
If you're the kind of mobile gamer who tends to choose games based on graphics and replay value, this is definitely one freebie you want to snap up this week. It may not be the best bargain of the bunch (Infinity Blade 2 has a far higher normal price), but it's really charming and totally addictive. That being said, you really should download every single free game in this 5th anniversary promo: they're all worth checking out!
Conclusion and download link
Everyone's taste varies when it comes to mobile gaming, but Badland is the best free game that's included in this current promotion. If it flew under your radar at its initial release, now is the perfect time to grab it! Badland is one of those games that proves the power and creativity of indie developers is far above traditional game publishers. What do you guys think: is Badland the best game in this App Store freebie bunch? Tell us what you think in the comments section below!
Price: Unknown but is currently available for free for a limited time

Version reviewed: 1.3
Supported OS: Requires iOS 4.3 or later

Download size: 126 MB
Related Posts