One of the main advantages of using an app locker is that it keeps your device safe from prying folks. After all, there's no assurance that someone won't take a sneak peak at your photo gallery. Some of them would even dare to read your private messages and important e-mail conversations. If you don't want any of these things to happen, better check out this app called Smart App Protector.
What It Does and What Does It Do
The main purpose of Smart App Protector is to protect and lock your mobile applications. Upon installation, you can select the apps that you want to lock so that every time that you launch the app, it will prompt you to key in the correct password (pincode or pattern). Not only that, this app can also be used to block other users from enabling your phone's Wi-Fi and 3G connection.
Pros
User-friendly interface, easy-to-use controls
Lots of options for app settings and app customization
You can lock any apps such as your photo gallery, file manager, music player, camera and a whole lot more
You can also use this app to lock your phone's screen brightness and screen rotation
Features a "Fake Lock" option, this feature will trick your unauthorized users into thinking that the app has crashed.
Locks your phone's Wi-Fi, 3G, USB and even your phone's incoming and outgoing calls
You can set your preferred lock type into password, pincode or pattern
You can customize the appearance of your app's lock screen
Features customizable notification bar icons
Provides assistance for password recovery, app backup and restore
Cons
The maximum delay time for re-requesting passwords is only 30 minutes
There is no option for setting a different password for each app
Doesn't lock apps stored in folders
Discussion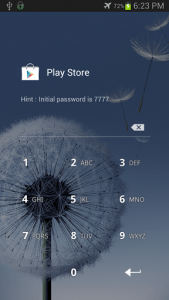 There are lots of Android app protectors that you can download for free but this app from SpSoft is on a different level. It's like you're getting all of the features of a premium app without spending money. It features a user-friendly interface with properly-labelled buttons plus it provides a lot of great options for app personalization. You can set your preferred type of password, you can lock any types of apps, you can lock your screen's brightness and you can even trick others into thinking that one of your apps has crashed.
Although there are a few things that I think would be a great addition to this app's list of cool features, I could say that this app is by far one of the best app lockers that I've already tried and used. Still, it would be nicer is the maximum delay time for re-requesting a password will be set to more than 30 minutes especially for those who do not want to purchase the app's pro version. It is also important to note that the app's password is universal. There is no option for creating a different password for a specific app. You should also keep in mind that before you start locking apps, you should set its Lock Initialization option first. This option is very useful especially if you forget your password. If you don't set this first, you might encounter some problems especially when it comes to unlocking your phone's default applications.
Other than those mentioned above, the Smart App Protector does a very good job in locking and protecting your apps. It is a very useful application especially if you have kids who are always trying to get a hold of your phone just to play games like Candy Crush. You can also use this app to protect your important files and private photos.
Conclusion and Download Link
If you fear that other people might access your Android device without your permission, better download and install this app. With Smart App Protector, you will feel more secure since no one except you can view and launch your apps thanks to pincode/pattern protection. This app may have some downsides but it still packs a lot of great features that you just can't easily ignore — features that differentiate Smart App Protector from the dozens of app lockers on Android. As a matter of fact, this is one of those apps that I recommend to my fellow Android users. Check it out.
(If you happen to not like Smart App Protector, check out dotTech's review on best free app locker for Android.)
Price: Free
Version reviewed: 5.5.0
Requires: Android 2.0 and up
Download size: 2.4MB
Smart App Protector on Play Store
Related Posts