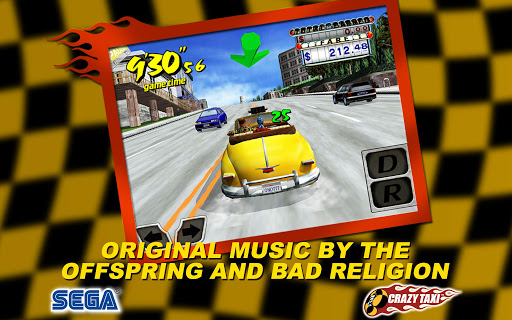 Once upon a time a company name Sega released a video game console called the Dreamcast. That console had quite a few memorable games, one of which is known as Crazy Taxi. At the time, Crazy Taxi was one of the most fun and exciting games, so if you haven't played it before, you can do so now if you own an Android device.
Yes, Crazy Taxi is now available on Android, but this isn't the first time the game has graced a smartphone platform. It first came out for iOS a while back, which left Android users in the cold waiting patiently for the day they would get to give the game a spin. That day is here today, and you will need $4.99 to make your dream a reality.
Some might say $4.99 is too expensive, but bare in mind this game was designed from the ground up for a video game console before being ported to mobile devices. And with the vast amount of content this game brings to the table, we feel the price is just right.
For those who are unaware, Crazy Taxi is mainly about driving around the map and picking up passengers. When a passenger is picked up, the player will have a limited amount of time to get the passenger to his/her destination. If you go fast enough, you make a lot of money, if you're slow, you'll still get a little bit of money, but if time runs out, the passenger will jump out of your car regardless of how fast you are driving.
It's a fun game with a huge world, you don't find many mobile centric games with this kind of size. If you're interested in giving it a spin, it is available now in the Google Play Store with a 4.9 out of 5 average rating so far.
Related Posts