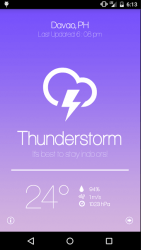 When it comes to weather apps, there's no way that you'll run out of choices. You can choose from apps with accurate forecasts, stunning visuals and interactive maps. Speaking of which, every user has a different preference. If you're looking for a beautiful weather app that you can display near bedside, you might want to check out "Weatheroux" for Android.
What Is It and What Does It Do
Main Functionality
Weatheroux is a free Android weather app that displays elegant visuals that matches well with its seamless UI. With this app, you do not only get the current weather update but also the forecast for the next five days. Other than that, the app is intuitively tailored to show forecasts from different locations together with other important weather-related information such as the temperature, humidity, pressure, precipitation, sunrise, sunset, etc.
Pros
Simple and easy to use
Beautiful and seamless user interface
Users can get weather updates for different locations
Provides weather forecast for the next five days
Provides other weather-related information such as the temperature in Fahrenheit and Celsius, humidity, pressure, precipitation, sunrise and sunset
Cons
No home screen/lock screen widget support
No support for landscape mode
Does not show the time and date
Users cannot customize the update refresh time
There's no settings menu
Discussion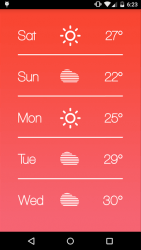 Weatheroux is a fairly new app so it's still on that stage wherein it needs to polish its features to provide a better performance. Nonetheless, the app still manages to offer a seamless user interface with elegant elements. It is also easy to use so you don't have to wonder whether you can correctly understand the terms given for forecasting the weather.
So upon launching the app, you get to view its default welcome screen. On its welcome screen, the app displays various details that would help you know whether it would be sunny, cloudy, rainy, stormy, etc.
To change your location, simply tap the location that is currently being displayed by the app. Next, enter your own city or country then wait a bit until the app gets to update the weather forecast based on the information that you've entered.
Now, if you click on the cloud icon, you'll be able to switch to future forecasts. That's not all. You can also view the temperature as well as other weather-related information such as the time for sunrise and sunset, etc.
On the downside, Weatheroux still has a lot of aspects that needs to be polished and updated. One good example of this is its lack of home screen and lock screen widget support. Plus, there's no way to switch the app to landscape mode. There's also no time and date so if you're new to the app, you'll need to make the most of what you have.
Anyways, Weatheroux works pretty well without any notable glitches or error. It's just a bit disappointing to find out that it doesn't support landscape mode. There's also no settings menu plus you cannot customize the refresh time/update interval. This simply means that the app can't give you real-time update for weather.
So all in all, the app has good points and bad points. It may offer good visuals but it is quite lacking when it comes to its functionality. While it's not really the app of choice for or users who are looking for in-depth weather forecasts, it can suit those who are merely looking for a simple yet beautiful weather app that they can place on their desks or bedside table.
Conclusion and Download Link
When it comes to visuals, Weatheroux for Android has the advantage since it offers a seamless and elegant UI. However, you cannot really expect it to be the type of weather app that offers in-depth weather forecasts. It still lacks in many aspects but it has a great potential. Nonetheless, you might want to test it out first before you make your final verdict. So go ahead and feel free to give it a try. As for those who are looking for a better weather app with widget support, you might want to try Weather & Clock Widget and AccuWeather.
Price: Free
Version reviewed: 1.3.4
Requires: Android 4.0 and up
Download size: 8.3MB
Related Posts