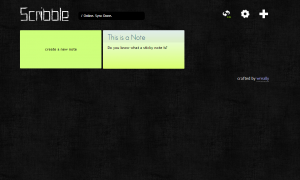 A lot of people use sticky notes to note down important things such as to-do lists, project deadlines, mobile numbers, email addresses and a whole lot more. The problem with sticky notes is that they make your desk messy but there's no need for you to worry. With the help of Scribble, you can literally transform your web browser into a virtual sticky notes board.
What Is It and What Does It Do
Main Functionality
Scribble is a simple web app created by Wreally Studios. With this app, you can create lots of colorful sticky notes without flooding your desk with messy post it notes. Plus, there is no limit to the amount of notes that you can make since you can easily view them on your web browser. You can even create notes with daily or weekly reminders. As of now, Chrome users can download this app for free at the Chrome Web Store. For people that don't have chrome, this app also features a web version that is suitable for all types of web browsers.
Pros
Easy-to-use, browser-based user interface
Features 5 colorful notes (grey, orange, red, blue and yellow)
Features a drag and drop option for reorganizing notes
You can create, edit and view your notes offline
You can create notes with reminders. If enabled, you must leave your Scribble window open or else, the desktop notifications won't appear on your browser.
You can view the web version of the app on your web browser (ideal for tablet and smartphone users)
Has a "Cloud Sync" feature (only available for registered Scribble Sync users)
Cons
Doesn't support note sharing, you cannot share your notes to your contacts via direct link or e-mail
The reminder feature has no sound so there's a possibility for you to miss your important notes
The Scribble UI doesn't have a "quick search" tool. If you want to find a particular note, you'll have no other choice but to scroll and browse all of the notes that you've posted on your Scribble board.
Discussion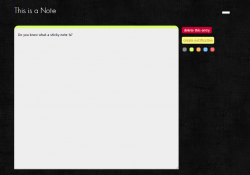 There are two ways to access the Scribble app. For Chrome users, you can to download the app from the Chrome Web Store. After which, it will be added to your list of browser applications. Meanwhile, the second method is recommended for non-Chrome users. In this method, all you need to do is to go to the app's official homepage and then you're all set to create your first note. It is also important to keep in mind that all of your notes will be auto-saved. Even so, they will still disappear as soon as you clear your browser's cache.
Furthermore, the Scribble app doesn't offer "Cloud Sync". If you want to enable this feature, you need to create a Scribble Sync account. The good thing about this is that there's no registration or subscription fee. You can have a Scribble Sync account for free. After you register, make sure that you click the Sync ON button so that the app could save all of the changes that you've made on your sticky notes board. If you're offline, the sync feature will be disabled but it will automatically resume as soon as you're connected to a Wi-Fi or 3G network.
It is also important to note that the app features a simple and spacious user interface. There's no limit to the number of notes that you want to make. Just keep in mind that the default color of your note is yellow. If you want to change it to red or blue, simply click on its heading or title. You can also drag and place your important notes on top of your virtual sticky notes board.
What I like most about this app is the fact that I do not need to open a new program or software. It's very accessible since all you need to do is to click a tab on your web browser. You can also create notes of different colors. It's just that there are a couple of things that I wanted to do such as sharing my notes to my e-mail contacts. Unfortunately, the app doesn't have a sharing tool and there is no direct link for each sticky note. Furthermore, the reminder feature doesn't have a sound. So every time the desktop notification appears, it's so easy to ignore. I also experienced some difficulties in searching a particular note since I have to scroll down all the way to the bottom of my sticky notes board. This is quite troublesome especially if you have more than thirty sticky notes on your board. Nonetheless, these flaws are quite acceptable especially if you're just using the app for creating simple sticky notes.
Conclusion and Download Link
For those who have a habit of writing on post-it notes, I recommend that you use Scribble. This isn't the most advanced sticky notes app out there but considering it is available from within your browser, it is a viable option for all. Plus, it's free, easy-to-use, and will help keep your desk or office table free from clutter. As for those who are looking for a more advanced type of sticky notes app with quick search functionality and sharing options, it would be best for you to find a better alternatives such as Stickies, Note Mania, or Efficient Notes Free.
Price: Free

Version Reviewed: 2.5

Requires: Any modern web browser

Scribble – Stickies on Steroids homepage
Related Posts