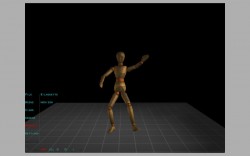 When I was a kid, my parents were big into catalogue shopping. Hammacher Schlemmer, L.L. Bean, Sharper Image…my little fingers would pore over the pages of these catalogues each month, amazed by the sheer variety of cool stuff that was just an order form away from being mine. My all-time favorite catalogue was FLAX, which featured tons of cool artistic stuff, from sumi-e brushes to Van Gogh printed umbrellas. The item I coveted most, however, was a simple poseable artist's model. You know the kind: wooden, jointed, devoid of facial features. I loved those things. In this age of digital, portable tools, however, it makes more sense for artists to carry around a laptop loaded with Poseable Lite than a notebook and physical model.
What is it and what does it do
Main Functionality
Poseable Lite is a Mac App that acts as a drawing reference tool. Pose the artist's model to get inspired, or export a screenshot from the app as a jpg to another program.
Pros
Loads very quickly
Easy to pose: just click on a joint and move your cursor to move the model, joint-by-joint
View model in silhouette or near a horizon line to better visualize lines and perspective
Change model or background colors to suit your needs
Change camera views from the menu to get your model into just the right view for your art project
Cons
App hasn't been updated since 2012
Some users have found the control scheme confusing and highly un-intuitive
Unstable app that was prone to both lagging and crashing during testing
Menus disappear after performing certain actions, confusing users
Some joints did not appear to be adjustable
Discussion
Bad news first: Poseable Lite isn't exactly user-friendly. The menus feel choppy and somewhat stale, and getting around isn't exactly as intuitive as it could be. The lack of a proper Help or Tutorial section is very noticeable here. Complicating matters is the fact that this app seems to use a lot of memory for such a small tool. This lead to crashing and lagging during my tests of the app.
The app also been updated in quite some time, making this awkward app feel a bit like a forgotten toy. The immobility of some of the doll's joints furthers the feeling that this app is a little rundown and broken.
But truly, it's not all bad news. Once you get your bearings, posing the model is fairly simple, as is getting the correct camera angle for your needs. This app is a good reference for artists looking to capture a certain pose without a real model at hand. Being able to save and export screenshots is also a nice touch. Overall, Poseable Lite isn't the most polished artist's model app out there, but it isn't a hunk of junk by any stretch of the imagination.
Conclusion and download link
Whether you're an artist, a designer, or just studying the human form, Poseable Lite is a freebie that captures the fun and usefulness of a wooden artist's model. While the controls can feel clunky at times, this app is worth checking out if you are in a situation where bringing an artist's model doll isn't possible or convenient. With so many camera angles, the digital version may outstrip the real thing in terms of versatility. This app has some issues, but it's an interesting offering.
Price: Free
Version reviewed: 2.0.5
Supported OS: OS X 10.6 or later

Download size: 4.9 MB
Poseable Lite on Mac App Store
Related Posts