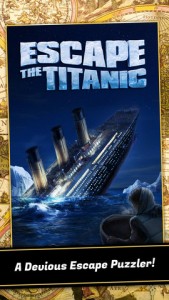 If there's one thing the iPhone does well, it's puzzle games. From falling blocks to hidden objects, physics puzzlers to tile-matching, the App Store is littered with great puzzle games for iOS. One relatively new puzzler that caught my eye is a blend of several different puzzle genres. It's called Escape the Titanic, and the title pretty much explains it all.
What is it and what does it do
Main Functionality
Escape the Titanic is a puzzle game where the player must solve puzzles to escape a sinking ship.
Pros
Wide variety of puzzles to keep things interesting
50 puzzles with hints in case you get stuck
Epic sound design
Cons
Some people might be offended by the game: it wasn't all that long ago that Heston Blumenthal was the target of rage because of his "insensitive" Titanic feast, after all
Visuals pale in comparison to both the real and fictitious images of the Titanic in pop culture
Some puzzles are too simple: the "puzzles" can feel less "challenging" and more like "point and click" gameplay at times
Unlocking hints and answers will set you back a couple of bucks
Discussion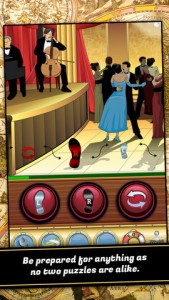 Believe it or not, there are still people who are touchy about the Titanic disaster, even a hundred years after the fact. Celebrity chef Heston Blumenthal got into hot water a few years back after preparing a Titanic-themed menu that some people felt was insensitive. There are definitely some people out there who might think that Escape the Titanic is morbid. I'm not personally in that camp: my problems with the game have more to do with content and design than sadness over this tragedy.
While I definitely liked the wide variety of puzzles and brainteasers this game offers, there are some aspects I disliked. One glaring issue is the graphics. When you think "Titanic," you think of opulence and luxury. But the graphics here are too simple: they lack realism and vividness that would have made this game feel more immersive. Plus, history buffs will note that fashions and tech in the game are not faithful to the period.
If you get stuck, you'll be confronted with a barrage of animations that encourage you to buy answers or hints. These are annoying, but the hints are optional to buy. As long as you're patient, you should be able to get through this free game without spending a dime. The key is to find hidden items along the way to complete your quest. While the game's various challenges can be frustratingly cryptic at times, this game is worth checking out.
Conclusion and download link
Despite a good hook and some interesting puzzles, Escape the Titanic may fail to grab some players. Uneven puzzle difficulty, ho-hum visuals that lack vibrancy, and an odd progression of in-game events make Escape the Titanic a hard pill to swallow at times. However, it's a freebie worth checking out for die-hard Titanic fans or puzzle game fans in general.
Price: Free
Version reviewed: 1.0.1
Supported OS: Requires iOS 4.3 or later

Download size: 70.2 MB
Escape the Titanic on Apple App Store
Related Posts