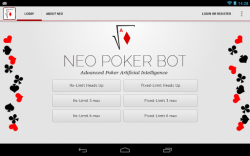 Sometimes you just have an inkling to play some good ol' fashioned poker. Unfortunately, when it comes to mobile devices and electronics, the AI you end up pitted against seems to know your every move and hand. It can get quite ridiculous at times, especially when there's absolutely no chance of you winning thanks to a cheating AI. This also kills a lot of strategy in the game, seeing as how when you're up against humans the power of a good bluff can be game changing. Neo Poker Bot (Beta) is a poker app for Android that has been specifically designed to offer a more realistic game experience.
What is it and what does it do
Main Functionality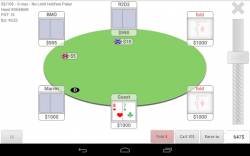 Neo Poker Bot is not just a sophisticated poker app with a more advanced AI, it's elegant too. The interface is minimal and follows the Android Holo theme, yet at the same time it's quite appealing. There are several different game modes to play, most of which involve going head-to-head with a different number of bots.
Pros
Traditional Texas Hold'em
Play against sophisticated and intelligent bots that make human-like decisions (not just a gimmick)
Minimal design that uses the Android Holo theme
Sounds can be disabled in the app settings for a quiet game session
Cons
No clear game progress saved, you need to launch the same exact game mode in order to continue a session
There are no player stats or game achievements offered, at the very least it would be nice to see your win/loss ratio
Uses nearly 80MB of RAM while running, which is a lot for an Android app
Not entirely sure what the login/registration feature is for, perhaps a future online mode
Discussion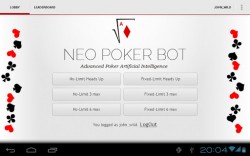 The very first thing you'll notice about Neo Poker Bot is the UI. It's elegant, yet it still manages to maintain a minimal style.  On the main menu you can choose from the various game modes, or read up on the sophisticated algorithms powering the AI. You can also login or register for an account, although admittedly I have no clue what this is for at this point in time. Perhaps later this will be used for online gameplay, if said modes are implemented?
There are six different game modes to choose from, all of which involve traditional Texas Hold'em. You can play 'heads up' which is one-on-one with no limits, or fixed betting limits. You can also play with three players max (two AI versus you) in a no limit, or fixed betting limit session. Furthermore, you can play with six players max (five AI versus you) in a no limit, or fixed betting limit session.
When you choose your game mode, you're launched right into a poker game. I'm not going to spend any time explaining poker, but Neo Poker Bot quite literally follows the game to a tee. On the table or game menu, you have options to fold, call or raise the current bet. You can also see your own cards, and the opponents you are up against. Opponents are represented by a bot-like name such as R2-D2, or C3PO. You cannot pause the game in the middle of a hand, however tapping the pause button will automatically put everything on hold in-between hands.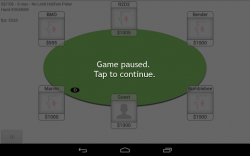 Neo Poker is actually a lot of fun once you start playing, and the AI is surprisingly intelligent. It's not like a standard poker game against the computer where the AI will always fold when you place a high bet. The opponents seem to be quite strategic in their moves. It's certainly a refreshing experience to say the least.
If you back out of a game in the middle of a session your progress will be saved. However, you can only continue the game at a later time if you choose the same game mode. For example, let's say you start a game of 'no-limit heads up'. You get a nice juicy one-on-one game going against the computer, but you have to take a break in the middle of the game. You can back out, and your progress is automatically saved. However, the only way you can continue that heated game, is if you choose the same 'no-limit heads up' game mode. You will be prompted to continue your previous game if you do choose the same mode. If you choose another game mode, your progress is lost completely.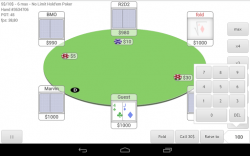 It would be much better if you could continue your game from the main menu, but at this point in time that option is not available.
Also, there are no stats or player achievements available. At the very least, I'd like to see how many games against the AI I've lost or won. Hopefully something will be added in a future update.
Despite those minor quirks, Neo Poker Bot is a more than capable poker app for Android. While running it does use nearly 80MB of RAM, so it's not an app that you will want to leave open for extended periods of time.
Conclusion and download link
Neo Poker Bot is an attractive and fun poker app for Android. Where it differs from other poker apps is the fact that it employs a sophisticated series of AI algorithms which essentially help the computer seem more human-like with its play style. In other words, it's a more realistic poker game where you won't feel like you're being cheated by the computer all the time. It's not just a gimmick either, the AI really is intelligent and fun to play against; it begins to learn your play style and adjusts accordingly, allowing the difficulty to rise the more you play. There are some minor quirks with the app, like the fact that you can only resume previous games by choosing the same game mode, and there's no support for stats or achievements. In addition, it uses quite a bit of system resources while running at nearly 80MB of RAM usage. That being said, however, if you love poker and want to experience something a little different, then I definitely recommend giving this one a try.
Price: Free
Version reviewed: 1.0.28
Requires: Android 2.3.3 and up
Download size: 1.5MB
Related Posts