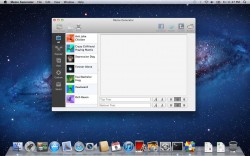 From Grumpy Cat to First World Problems, Futurama's "Not Sure If" to Condescending Wonka, people love memes. They're kind of the perfect form of comedy: simple to digest, endlessly variable, and even capable of being great inside jokes. There are tons of websites out there that will let you build memes quickly, but there are also a number of Mac Apps that will let you do the same thing. One such Mac App is called Meme Generator, developed by Alberto García Hierro.
What is it and what does it do
Main Functionality
Meme Generator allows you to build clever memes in a flash.
Pros
Simple design
Use pre-loaded meme images, or upload your own
Browse meme templates, sorted by popularity or name
Share your creations directly from within the app
 Synchronize your  creations between all your Apple devices using iCloud
Cons
Can be hard to find the meme template you're looking for by name if you don't know what the image is called (or how it is listed in the app
No search functionality
Not much of a surprise here, but Impact is the only font available for writing over images
Discussion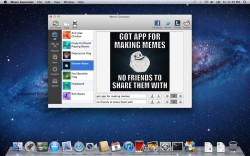 Meme Generator may not have a very creative name, but that's because you supply the creativity. Using your own images, or the gallery of images of popular memes included within the app, you can add relevant text and start cranking out your own Success Kid or Socially Awesome Penguin memes to share on Facebook, Reddit, or whatever site you love to share content on.
All told, there are about 80 stock meme images to work with. That sounds like a lot, but you can scroll through them all pretty quickly.
One thing I would have loved to see that would have added more diversity to the mix is the ability to blend two meme images together in the app. One thing I see on Reddit all the time is a splitscreen that's half Socially Awkward Penguin and half Socially Awesome Penguin: being able to mash two such meme templates together in Meme Generator would have ruled.
Search functionality with tags for the meme image database would also be helpful. Most of these memes were familiar to me, but some of them I only knew on sight, not by name. It doesn't take long to sort through 80 images, so you can usually find what you want fairly quickly. Still, navigation in this app does have a little bit of room for improvement.
Conclusion and download link
If you want to build a meme in a flash, there are tons of sites that can do it just as quickly as this Mac App. So, why use an app instead of a web-based tool? Well, this app is good for building memes when you don't have access to the Internet. In addition, the interface is very simple, and it's nice that this comes pre-loaded with popular memes. One thing I'd love to see in a later versions of this app is the ability to click on an unfamiliar meme within the database and get directed to the relevant entry on KnowYourMeme. Overall, this is a solid tool for meme addicts.
Price: Free
Version reviewed: 1.2
Supported OS:  OS X 10.6 or later

Download size: 0.4 MB
Meme Generator on Mac App Store
Related Posts