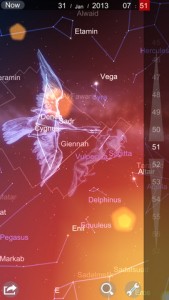 I'm lucky enough to live in a part of the world where I can see the stars at night, every night. But every once in a while, I get to visit parts of the country where the view is even better: more clear, more stunning, and less affected by light pollution. At those moments, I wish I had retained more astronomy knowledge from my childhood visits to the planetarium. Thank goodness for iPhone astronomy apps: what astronomical reference system has ever been this easy to use? There are lots of options out there, but I decided to focus on Star Chart because it has an attractive look (and a low, low price of ZERO dollars!)
What is it and what does it do
Main Functionality
Star Chart is an app that lets you look up at the night sky, and use "augmented reality" to see the names of various constellations.
Pros
Great UI and stellar design
Just point your iPhone at the night sky to see what constellations you're looking at, complete with visuals that help you interpret the shapes of the constellation
Also lets you see the sky from other locations on Earth
See the current location of every star, planet and moon visible from planet Earth
"See" the constellations overhead, even on a cloudy night or while indoors!
Cons
Some of the in-app location language is odd (For example, my current location was not listed as "City A" but as "52.2 km SW of City B")
While it usually runs silky smooth, a reboot was required here and there to keep things running smoothly and lag-free
IAPs (in-app purchases) are required to unlock enhanced star charts, meteor shower maps, and the like
Discussion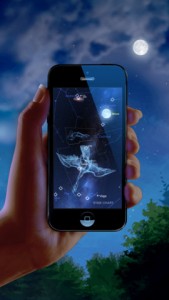 I was a bit skeptical about this app at first. While it looked great, it actually was quite laggy and unresponsive during my first go-round. After quitting the app and restarting it, however, my experience was vastly improved, and the app ran silky smooth and hiccup-free.
To use this app, all you need to do is point the phone at the sky. Interested to learn whether a distant point of light is a planet or part of a nearby constellation? Point the phone at the point of light, and you'll have your answers in a flash. This app is great for adults and kids alike, simply because it is so simple to use.
It's amazing how beautifully rendered these constellation images are, and I love that you can use IAP to augment the app's default content library. Really into planets or meteor showers? There's IAP for that! I'm not usually a big fan of IAP (who is?), but it's nice that you can cherry pick among various stellar phenoms and buy content related to what interests you most.
Conclusion and download link
If you want an astronomy app that's nearly as pretty as the sky above your head, you could do a lot worse than Star Chart. The art is gorgeous, the app can be expanded with tons of IAP add-ons for a richer experience, and the overall user experience is pretty solid. Grab this freebie even if you only have the slightest passing interest in astronomy or star-gazing.
Price: Free
Version reviewed: 3.2
Supported OS: Requires iOS 4.3 or later

Download size: 19.3 MB
Related Posts