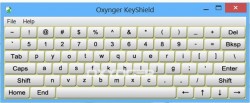 Keyloggers are one particularly dangerous type of malicious software (and sometimes hardware) which essentially record and transmit all key press activity. This allows resourceful hackers the chance to record passwords, login credentials, credit card information and much more. There are many ways to prevent your computer from contracting such harmful applications, but what do you do after the fact? Sometimes, it's even necessary to perform sensitive transactions on a public computer. What do you do when you want to thoroughly ensure that your information, including keystrokes, is not being recorded? Oxynger KeyShield is a virtual keyboard for Windows that offers many protection features, namely it prevents Trojans, spyware and even keyloggers, from collecting your information.
What is it and what does it do
Main Functionality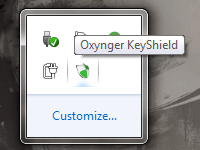 Oxynger KeyShield is a secure virtual keyboard for Windows that is designed to prevent unauthorized programs and software from logging sensitive information entered. In addition to protecting from Trojans, spyware and keyloggers it also prevents any applications from taking screenshots of the interface during use. It implements a different key layout for each install of the application, which works to prevent keylogging tools from recording key strokes. To translate, if you were to install KeyShield on two different computers, they would both use different keyboard layouts instead of the traditional QWERTY style. This also holds true for different users on your computer, as each of them get a different layout when using KeyShield.
Pros
Virtual keyboard that protects sensitive data from keyloggers, Trojans and spyware
Also prevents screenshots from being taken of the keyboard
Every install gets a different layout, including alternate Windows users
Works with a huge amount of third party applications, see this list
Cons
There's no portable version available, this would be a great app to lug around on a flash drive
Requires the Microsoft .NET Framework 3.5
Does not list Windows XP as a supported OS
Discussion
For starters, Oxynger KeyShield requires the Microsoft .NET Framework 3.5 in order to function properly, so ensure that it is installed before you try using KeyShield. In addition, 'Desktop Composition' must be enabled in Windows 7 in order for the virtual keyboard to work. This can be enabled or disabled from the Windows Control Panel, and also in the properties window accessed by right clicking on the KeyShield icon.
One of the biggest issues with KeyShield right out of the gate is that there's no portable package available. This is certainly discouraging because it would be great to store the application on a flash drive for portable use everywhere. It would be especially useful when browsing public computers and those other than your home machine. Unfortunately, it's only available via a traditional install package.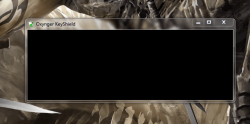 Coincidentally, the unique screenshot protection measures made it difficult for me to collect samples of the virtual keyboard. When trying to capture a screenshot of the keyboard, either through screen cap software or just pressing the print screen button, the results will show a blank window. As you can see from the screenshot, the image capture protection works just as advertised.
There's not much to say about the layout of the keyboard. Right when you open the application you're presented with a very simple virtual keyboard that can be used to type or submit information. There are no additional settings to configure, and there are no special function keys. Of course, you do have access to virtual versions of the tab, caps, shift, home, end, enter, directional arrow and backspace keys. The layout does not change everytime you use it, so don't worry about not being able to get used to the weird location of the keys. It only offers up a different layout each time the application is installed, or for other users.
You can close the keyboard at any time, since a dedicated icon remains in the system tray. Right clicking on the icon will bring up a context menu with several options, one of which allows you to recall the keyboard.
Obviously, it's not meant for you to type out your next novel. Instead, the application runs in the background so you can recall the keyboard at any time. It's designed specifically for entering passwords, credit card information and pretty much anything sensitive. Any information you wouldn't want collected by a third party, is what you would type up with KeyShield.
For reference Oxynger KeyShield uses nearly 2MB of RAM while running (2,000KB). It's relatively light on system resources, in fact light enough to leave running in the background without any kind of a performance loss.
Conclusion and download link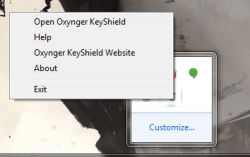 Oxynger KeyShield is a virtual keyboard for Windows that protects entered information and keystrokes from being recorded by keyloggers, Trojans and spyware — all malware in general. It also prevents third party applications from capturing screenshots of the keyboard in use. In other words, it's pretty much locks down your input (i.e. what you type) from being accessed by malicious parties of any kind. I wouldn't recommend using this keyboard at all times because it can get quite cumbersome; instead it's only meant to be used when entering sensitive information. To facilitate this usage, the program runs quietly in the background until you need the virtual keyboard. You can recall it any time thanks to the system tray icon.
Overall, check out this program if you are worried about keyloggers and such. Also be sure to check out Zemana AntiLogger and KeyScrambler.
Price: Free
Version reviewed: 1.04
Supported OS: Windows (Vista, Seven, Eight), no official XP support listed

Download size: 1.15MB
VirusTotal malware scan results: 0/47

Is it portable? No
Related Posts