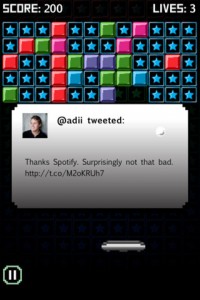 People love to play old arcade and Atari games on their iPhones. And from what I've seen on the App Store, the second-most popular retro game after Tetris is Breakout. There are a ton of Breakout-style, brick-breaking games out there, but there are none quite like Social Break.
What is it and what does it do
Main Functionality
Social Break is a Breakout-style game that blends brick-busting gameplay with social networking. As you play a game of Breakout, you will also see tweets displayed from people that you follow on Twitter.
Pros
Game with a fun social twist
Perfect for people who want to spend their break times on Twitter, but also want to play a game to unwind at the same time
Responsive handling for the in-game controls
Play in online, offline, or extreme modes
Great music
Adjustable settings for how many tweets you see
Cons
While controls are responsive, I did have some moments where the ball when right through my platform: frustrating!
Even with settings adjusted to see the maximum number of tweets, I felt like I was seeing as many tweets come through as I wanted
Discussion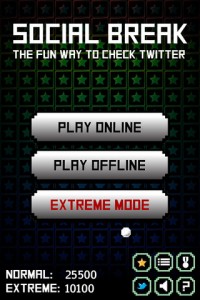 Social Break is a good blend of gaming and social networking. You can play a game, but also stay current with what's happening on Twitter. If you are so compulsive that you like to multi-task even when relaxing, this app is a clever way to double your value during relaxation time (or procrastination time.)
The controls are responsive enough, but I wonder if there might be some bugs in the code. Particularly when I had used a power-up that made my bouncing platform larger, I had multiple balls fall right through the platform! Other than this issue, however, the game played cleanly and enjoyably.
When you set up Social Break, you will need to give the app access to your Twitter contacts (but you probably figured that already.) Before playing your first game, you can head to the options menu to set your percentage of tweets (low, medium, high, or extreme), as well as setting your preferences for how many seconds to show the tweet onscreen (between 1 and 10 seconds.) After toggling my settings multiple times, I still wasn't able to get tweets displayed as frequently as I would have liked.
Some minor quibbles aside, I liked this creative blend of gameplay and socializing. I had previously played another game from this developer called Wicked Devil, which was a lot of fun. With titles like Wicked Devil and Social Break under their belts, definitely keep an eye on Wicked Little Games.
Conclusion and download link
If you're nuts about casual gaming or retro arcade classics, Social Break is a solid brickbreaking game. Toss in a fun ability to check Twitter while you're killing time, and this fun app-slash-game kills two birds with one stone. For chronic multitaskers, Social Break is a fun way to chill out, play a game, but stay connected to what's happening in the world around you at the same time.
Price: Free
Version reviewed: 1.1
Supported OS: Requires iOS 5.0 or later

Download size: 4.2 MB
Social Break on Apple App Store
Related Posts